Aranyo Ray and Vaishnavi Pandey — higher secondary students of Kalyani Public School, Barasat (West Bengal) and Tagore International School, Delhi respectively — were adjudged national winners of the Pramerica Spirit of Community Awards (PSCA) 2020 at a glittering ceremony held in Delhi on February 24. Both were presented with a gold medallion, certificates of excellence, a cash prize of Rs.50,000 and round trip to Washington DC.
Launched in India in 2010 as an initiative of Pramerica Life Insurance Ltd — a joint venture of the US-based Prudential Financial and DHFL Investments (India) — PSCA is an annual awards programme which acknowledges and celebrates pre-collegiate youth who positively impact their local communities through voluntary service.
Disturbed by the harmful effects of toxic pesticides on farmers and the environment in Ranaghat, his native village, Aranyo has developed two scientific, sustainable and affordable organic pesticides branded NanoCide and SoyaSafe. The main component of NanoCide is rice husk ash, an abundant agricultural waste and SoyaSafe is a methyl jasmonic acid (MeJA) extract from phytohormones found in all plant life, especially the jasmine flower.
"NanoCide and SoyaSafe have been successfully tested in 1,820 farms in Ranaghat with the ready assistance of the local panchayat and farmers' cooperatives. The Pramerica cash prize will enable me to start production and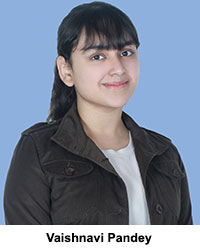 eventually benefit millions of farmers countrywide," he says.
On the other hand, Vaishnavi has been awarded for promoting Flawless Flaws, a firstof-its-type awareness and support campaign run by Tagore International School, to sensitise society about acid attacks on women. Through street plays and cultural programmes the campaign's volunteers raise funds for survivors to meet medical expenses, check illegal sale of acid by pharmacies and find suitable jobs for survivors. "A chance interaction with spirited acid attack survivor Laxmi Agarwal four years ago inspired me to start Flawless Flaws in 2016 with the support of my
school principal Nikita Mann Tomar, senior education advisor Madhulika Sen and mentor Vedica Saxena who
encouraged and guided this initiative," says this can-do social activist.
Baishali Mukherjee (Kolkata) & Paromita Sengupta (Bangalore)