The Ardee schools are the brainchild of Shefali Varma, chairman of the Ardee Group, a prominent real estate development company in Delhi NCR, who chose to pursue her passion for contemporising India's cookie-cutter school system while working on real estate projects with her father, the Late Ashok Varma, founder chairman of the group.
– Bandana Brahmin
Promoted as a pre-primary over a decade and half ago, the Ardee Group of Schools (estb.2003) is nationally recognised for providing contemporary internationally benchmarked education in its two Montessori preschools sited in Delhi and three futuristic K-12 schools in Gurugram, Noida and Goa with an aggregate enrolment of over 1257 students mentored by 200 highly qualified teachers. In the EducationWorld Delhi Preschool Rankings 2018-19, Ardee is ranked #3 in the national capital and in the EducationWorld India School Rankings 2018-19, all three Ardee K-12 schools are ranked among the Top 50 in the category of International Day Schools.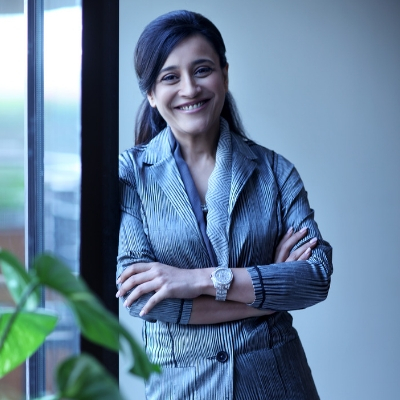 The Ardee schools are the brainchild of Shefali Varma, chairman of the Ardee Group, a prominent real estate development company in Delhi NCR, who chose to pursue her passion for contemporising India's cookie-cutter school system while working on real estate projects with her father, the Late Ashok Varma, founder chairman of the group. In 2003, she promoted the first Ardee Montessori in Golf Links, Delhi with well-known educationist Chanda Raisinghani as founder-principal. This new-genre preschool quickly won excellent notices within the national capital's discerning parents' community for providing carefully designed child-friendly learning spaces and progressive curriculums to its over 360 children aged 1.5 – 6 years.
"The Ardee schools have challenged traditional chalk-n-board teaching by pioneering new contemporary pedagogies rooted in experiential child-centred learning. Our constant endeavour is to reinvent teaching-learning in line with a fast-changing and complex world. Therefore at Ardee our focus is not merely on learning to pass exams but learning to learn with teachers having shifted the emphasis from data and information assimilation to meaningful learning experiences and discovery, resulting in innovative children who flourish through curiosity and adaptability," says Shefali Varma, a life member of the FORE School of Management, Delhi, a top-ranked B-school, and an executive member of the IIM Lucknow board, and member of FICCI, CII and CREDAI.
An alumna of Delhi University and Parsons School of Design, New York, Shefali is the driving force behind the accelerated development of the Ardee schools into one of the country's most respected pre-primary to secondary education groups. A committed educationist who believes in the transformational power of education, she has established free-of-charge crèche services for children of labourers employed in various construction projects of the Ardee Group. She has also actively contributed to several women and child welfare initiatives of NGOs and is a founder member of #myrighttobreathe campaign, an environment conservation initiative.
Following the resounding success of the first Ardee pre-primary in the national capital, Shefali promoted the Cambridge Assessment International Education (UK)-affiliated The Ardee School, Gurugram in 2008 followed by a second Cambridge International-affiliated The Ardee School in Goa in 2009. Another Montessori inspired pre-primary was added to its bouquet of world class institutions with the promotion of The Ardee School, Noida in 2014. The group's latest institution is the Cambridge International-affiliated The Ardee School, New Friends Colony (NFC) in South Delhi, which admitted its first batch of students in 2017. Sprawled over a two acre verdant campus, this showpiece campus has been voted as one of the 'greenest' schools in Delhi.
All Ardee campuses provide state-of-the-art IT-enabled academic, sports and extra-curricular education facilities to enable learning through exploration and inquiry. The spacious temperature controlled classrooms with kinesthetic seating solutions are equipped with latest multimedia aids including Promethean Smartboards. The Learning Resource Centre features an automated library mapped to the curriculum with the digital library providing students access to a wide array of volumes, journals, audio files and videos. Moreover all schools provide well-equipped science and IT labs to boost experiential hands-on learning.
In consonance with the belief "a sound mind works through a fit body", the Ardee management has invested generously in sports and co-curricular education facilities. Sports infrastructure includes an international standard outdoor multi-purpose court for basketball, tennis and badminton, a 50×30 m soccer field with carpet grass, volleyball court and a 20,000 sq. ft temperature-controlled indoor sports hall used for gymnastics, yoga, health and fitness activities.
Committed to the continuous professional development of its 200 teachers, the Ardee schools host year-round professional development programmes on classroom management, effective implementation of information and communication technologies (ICT), and redesigning teaching-learning processes for students with varied learning styles and needs.
To realise its institutional philosophy of "be the change" drawn from Mahatma Gandhi's famous words – "Be the change you want to see in the world", the three K-12 Ardee schools are at the forefront of continuous innovation and improvement in curriculum and teaching-learning processes to prepare students for success in a rapidly globalizing world. Notable pedagogy innovations and initiatives include:
A unique World Studies curriculum which is delivered as a 45-minute lesson every day.
Montessori pedagogy is integrated into the Cambridge primary curriculum to boost student learning outcomes.
Makers Lab — a state-of-the-art laboratory featuring 3D printers, laser cutters, woodworking equipment for digital and metal fabrication – provides students opportunities to think, design, create, and innovate new ideas and products.
The Ardee Schools collaboration with Formula 1 track events offers a unique platform for students to engage with the world's premier motor car racing event.
The latest initiative of the Ardee Schools is the Incubation Lab where students experience virtual reality and artificial intelligence technologies.
Environment conservation is an important focus area with Ardee students engaged in upcycling, composting and other environment conservation projects. They also actively participate in the #myrighttobreathe campaign to reduce air pollution in Delhi.
Ardee students actively participate in community service projects such as aiding flood relief, working with under-privileged schools etc.
'Nirmal Hem Bal Shiksha' is a popular outreach programme of the Ardee School and the Ardee Teacher Training Centre to provide education to underprivileged children in the 10-15 years age group.
The Centres of Excellence for Performing and Liberal Arts, STEM, Applied Design Thinking, Fitness and Sports, Media and Technology, World Studies, Citizenship Education, Environmental Consciousness and Spiritual Intelligence hone the multiple intelligences of students and ensure their all-round development.
"Our two Ardee pre-primaries and three Ardee schools are setting new benchmarks in K-12 education in India. We are committed to continuous improvement and innovation. Our future initiatives are focused on implementing new ICT technologies and strategies to equip children with the skills and mindsets to succeed in a constantly evolving world. We don't believe in resting on our laurels and are constantly redefining what is 'best'. That, in itself, is education," says Shefali.
Campus
,
News