The annual EducationWorld Grand Jury India School Rankings (estb. 2016) acknowledge and felicitate schools — especially newly-promoted, low-profile primary-secondaries — that excel under parameters other than the 14 under which schools are rated and ranked in the annual EducationWorld India School Rankings which are based on field-based interviews countrywide.
In June-July advertisements on our website (www.educationworld.in) and social media invited nominations — including self-nomination — under separate and distinct parameters including excellence in learning assessment, design thinking, campus architecture and design, best technology integration, extraordinary leadership, social impact, etc, with documentary proof of best practices and achievement. By the closing date (August 30, 2023), 1,500 nominations were received.
On the basis of the information provided by applicant schools and their own domain knowledge, a specially constituted Grand Jury comprising eminent educationists Fatema Agarkar, founder of Agarkar Centre for Excellence, Mumbai; Rohit Mohindra, director of the Mumbai-based Raj Mohindra Consultants Pvt. Ltd; and Sonia Agarwal Bajaj, social entrepreneur and co-founder of Whiz League, Agra, ranked Top 10 schools under each category.
The complete Top 10 EW Grand Jury India School Rankings 2023-24 are published in the following pages.
High Happiness Quotient Schools
Schools providing joyous, enabling and stress-free learning environments including curriculums, pedagogies, and student welfare programmes that motivate and inspire children to realise their full potential.
"It's a proud moment for us at Tenbroeck Academy to receive this award. Pursuit of happiness and learning enjoyably is the cornerstone of our educational philosophy. In Tenbroeck, we value a culture which encourages camaraderie and cooperation among students, in classrooms, playing fields and cultural spaces. In this enabling environment, children are free to express themselves and develop their multiple intelligences. We also encourage and invite parents and extended families to actively participate in school events and activities, creating a close-knit community where students learn joyfully." — Renita M., Principal, Tenbroeck Academy, Bengaluru (299 students and 40 teachers)
India's Most Respected Education Brands
Education chains which have made exceptional contribution to upgradation of Indian K-12 education.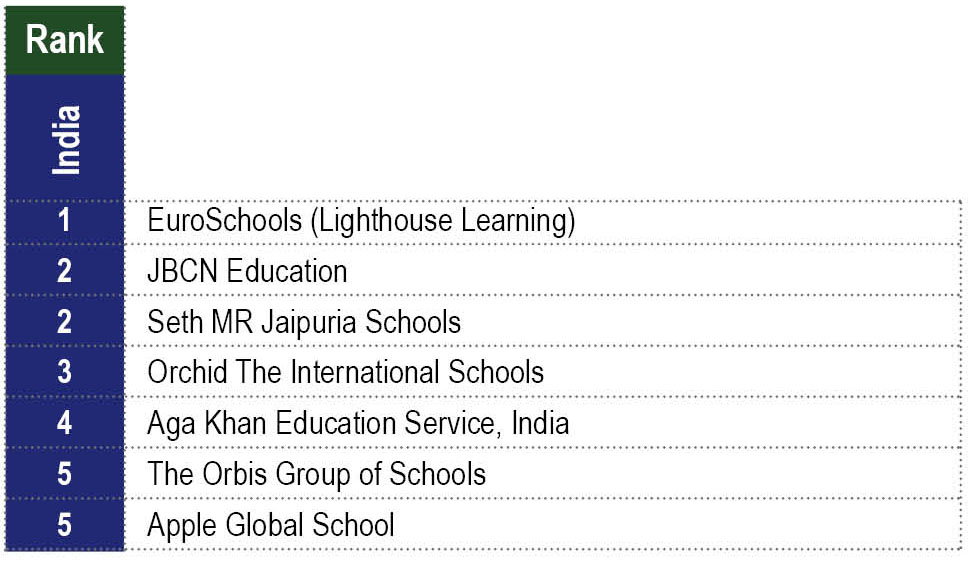 "We are deeply honoured with this recognition. I attribute it to our steadfast commitment to delivering high quality education and empowering students to discover their multiple talents. Our students are provided an optimal blend of academic and co-curricular opportunities through well-designed curriculums, contemporary pedagogies and excellent sports and cultural activities including TEDx conferences. Moreover our in-campus Center of Well-being ensures children's physical and mental health while our Career Guidance Program prepares them for higher education through skills development programmes and university visits. At EuroSchool, we accord high priority to all-round development of children." — Rajani Pattabhiraman, head (school development) EuroSchools (17 schools, 26,000 students and 1,200 teachers)
Excellence in Learning Assessment
Schools which have devised and implemented holistic, 360 degree learning assessment systems and practices to enable students to continuously improve learning outcomes and enable high academic achievement.
"We are delighted to be ranked India #1 for excellence in learning assessment. I credit and thank our teachers for working collaboratively to design and deliver engaging lessons and effective child-friendly assessment methodologies. With our emphasis on experiential learning through projects and development of critical thinking skills, assessment is both formative and summative and designed to evaluate children's knowledge, creativity and higher order thinking skills. More important, the objective of all our assessment is to nurture self-directed lifelong learners, and provide teachers data to improve and enhance their lessons to improve student learning outcomes" — Dr. Radhika Srinivisan, Principal, Billabong High International School, Malad, Mumbai (1,950 students, 175 teachers)
Best Technology Integration
Schools which have successfully integrated new-age technologies usage and blended learning methods with students and teachers encouraged to apply digital technology skills to enrich teaching-learning.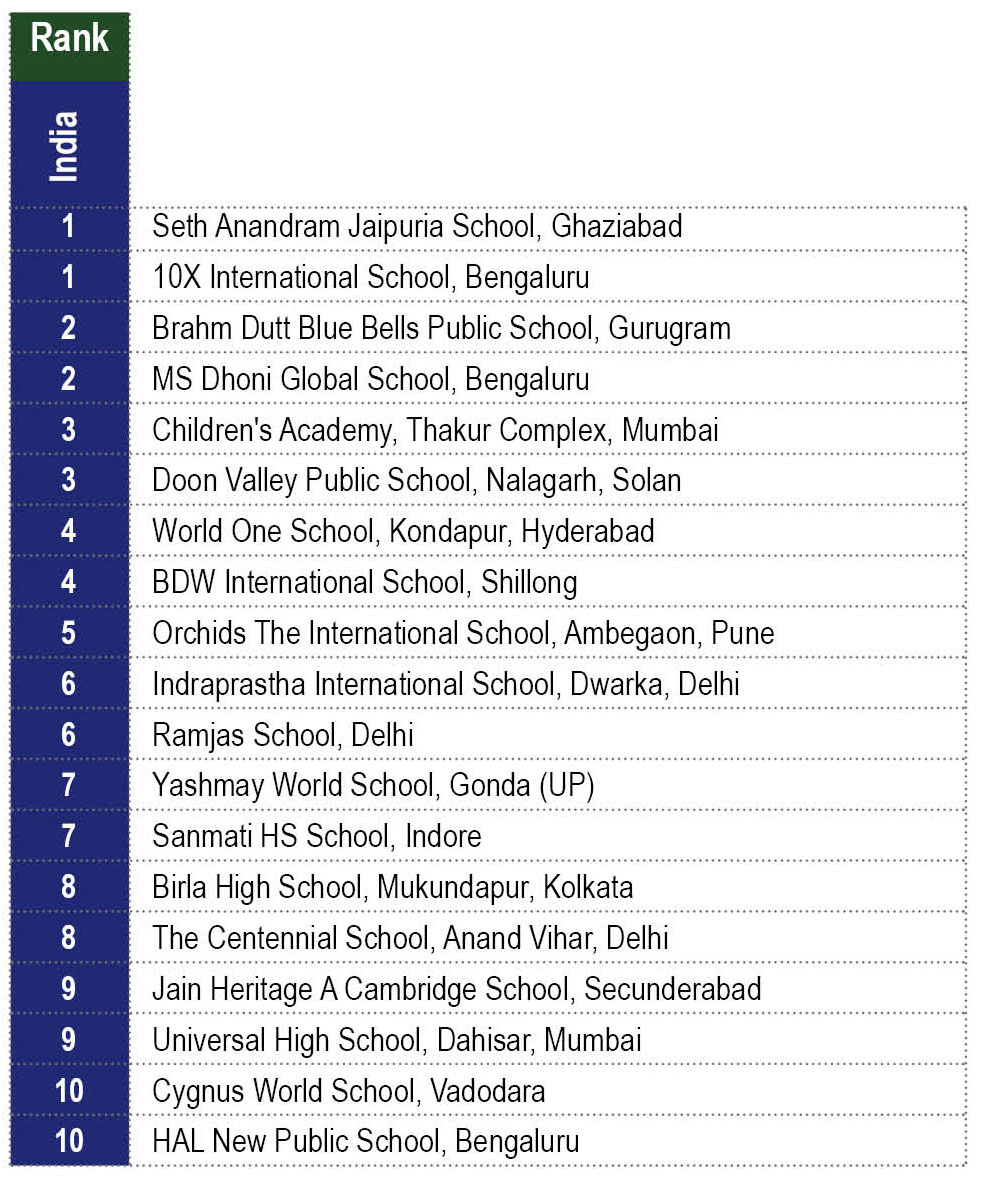 "We are delighted that 10X International has been ranked India #1 for best technology integration. In 10X, innovation is our core philosophy and we integrate STEAM learning across all subjects. Students learn experientially using latest technologies such as 3D printing, AI, robotics, VR/AR, Blockchain, and drones. For instance, in an interdisciplinary assignment students use latest software to design a futuristic urban city. Students use drones and virtual reality headsets for immersive learning experiences, and document their learning through blockchain e-portfolios using the school's Blockchain platform. Integration of technology into the curriculum has made teaching-learning experiential and meaningful." — Dr. Savita Chakravarthy (left), Principal, 10X International School, Bengaluru (56 students, 16 teachers)
Design Thinking Leaders
Schools demonstrating extraordinary capability to break away from rote learning, and adopt pedagogies that encourage development of students' creative thinking, collaborative and problem-solving skills.
"We are elated to be ranked #1 countrywide for design thinking in the prestigious EducationWorld Grand Jury Rankings. It is recognition of the extraordinary efforts our teachers have made to devise experiential, design thinking pedagogies to develop children's critical thinking and problem-solving capabilities. Our teachers constantly reflect to strategise teaching-learning plans and activities which encourage students to challenge assumptions and ideate innovative solutions. We are also the pioneers in introducing the #Think Series sessions which bring together curriculum designers, policy makers, parents, and students on a common platform to share innovative ideas." — Sachin Vats, Founder Director, Gurukul The School, Ghaizabad (2,295 students, 178 teachers)
Great Schools to Work In
Institutions offering democratic and enabling work environments and cultures, implementing excellent human resource development practices that support teachers and staff to give their best, improve productivity and deliver excellent outcomes.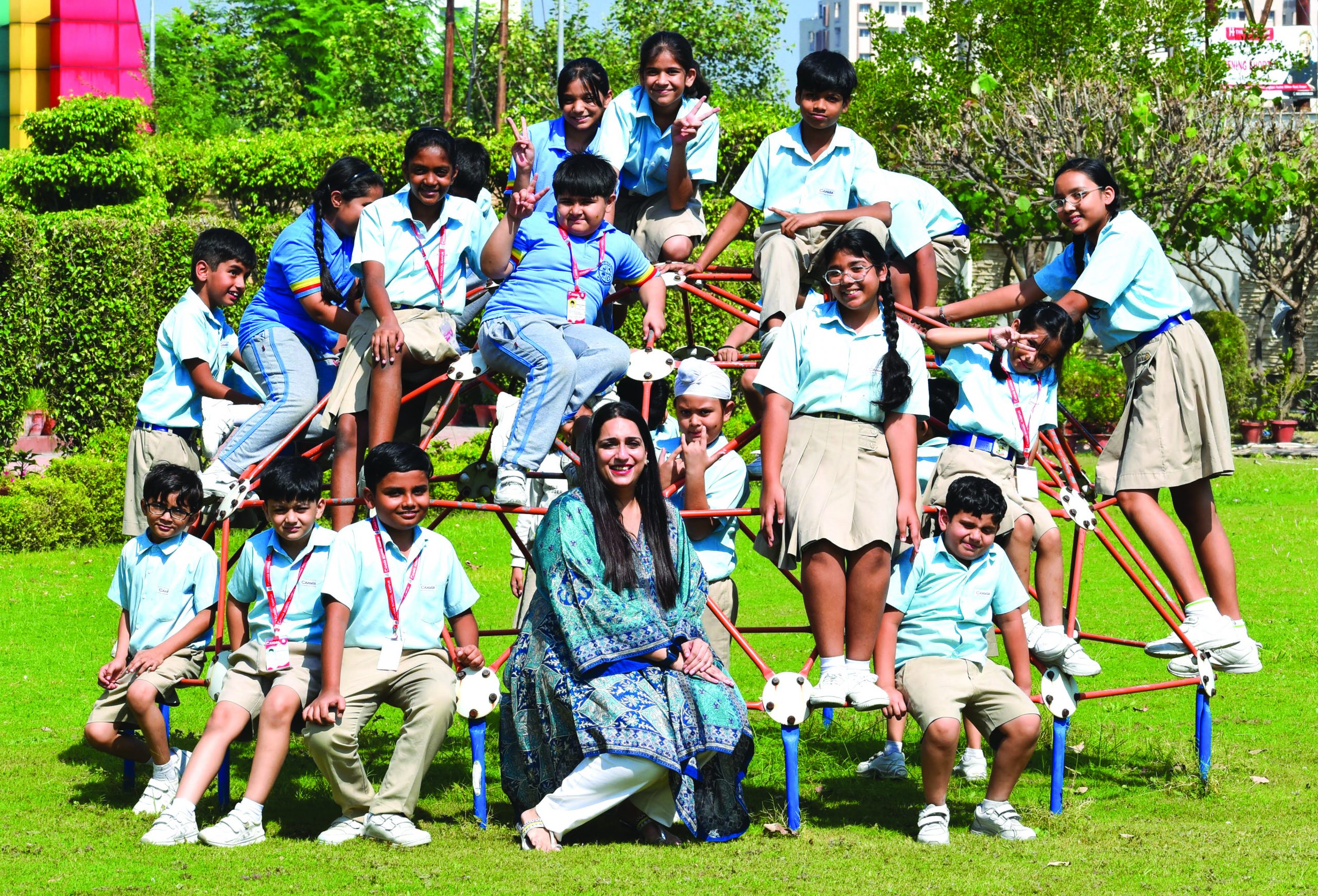 "We are thrilled we are ranked India's #1 Great School to Work In. It's a testament to the positive and nurturing environment we have created for our students and teachers. We accord topmost priority to the development of our teachers who are provided regular professional development and mentorship opportunities. Moreover, wellness programmes including yoga and stress management workshops ensure physical and mental well-being of our teaching and non-teaching staff. Open communication is encouraged and problems solved cooperatively and collaboratively. Our teachers and staff are our greatest strength and we do everything possible to ensure they are happy and motivated to deliver the best teaching-learning experiences to students." — Dr. Kavisha Khurana Vij, Director, Chintels School, Kanpur (1,028 students and 82 teachers)
Emerging High-potential Schools
Newly-promoted schools that have demonstrated high potential to quickly adopt and integrate 21st-century education best practices.
"India's #1 Emerging High Potential School title is acknowledgement of the unique opportunities we are creating for our students. Prime among them is the opportunity for peer collaboration and learning with Harrow schools around the world. For instance, next February our students will be travelling to the UK to attend lessons and play sports with Harrow, London students while the creative writing and STEAM societies are working with students in Harrow schools worldwide to create an anthology and magazine respectively. Simultaneously, our students are benefiting from highly experienced international teachers, a third of whom are graduates of Oxford and Cambridge universities. Supported by outstanding academic facilities on our 60-acre campus, we are confident of offering a uniquely international education within India." — Andrew Leale, Headmaster, Harrow International School, Bengaluru (estb. 2023, 100 students, 24 teachers)
STEAM Education Excellence
Schools delivering innovative science, technology, engineering, arts and mathematics education through experiential pedagogies.
"I attribute this award to years of unwavering commitment to provide students holistic STEAM education and nurture innovators, critical thinkers, future leaders and problem solvers. One of our key initiatives is integration of the Creya STEM Learning programme with the curriculum, which provides a structured framework for hands-on, project-based learning. All our teachers are trained by Creya to connect classroom concepts with real-world problems and encourage children to learn by doing. We have allocated two classroom periods per week for STEAM education with children encouraged to display their projects during events."— Meena Reddy, Vice Principal, Vidyanjali Academy for Learning, Bengaluru (670 students and 50 teachers)
Extraordinary Leadership
These awards acknowledge outstanding education leaders who have led institutional transformational changes and initiatives.
"We are overwhelmed with the news that Nirmal Bhartia is ranked India #1 for extraordinary leadership. We strongly believe that the power of community flows through a shared vision of leadership and dedicate this award to our school community. Adhering to the credo that true leadership is about nurturing leadership potential in others, we make all efforts to nurture leadership qualities in our teachers and students. Some of our leadership programmes for teachers include 'Exploring New Horizons', 'Pursuing Your Passion' and 'Teacher Champions' and for students, 'Together We Can', 'Voice of Art' and SMILE programmes." — Charu Wahi, Principal, Nirmal Bhartia School, Delhi (1,100 students and 110 teachers)
Campus Architecture & Design
Schools with attractive and conducive campuses which enable children to learn joyfully and give their best are awarded in this category.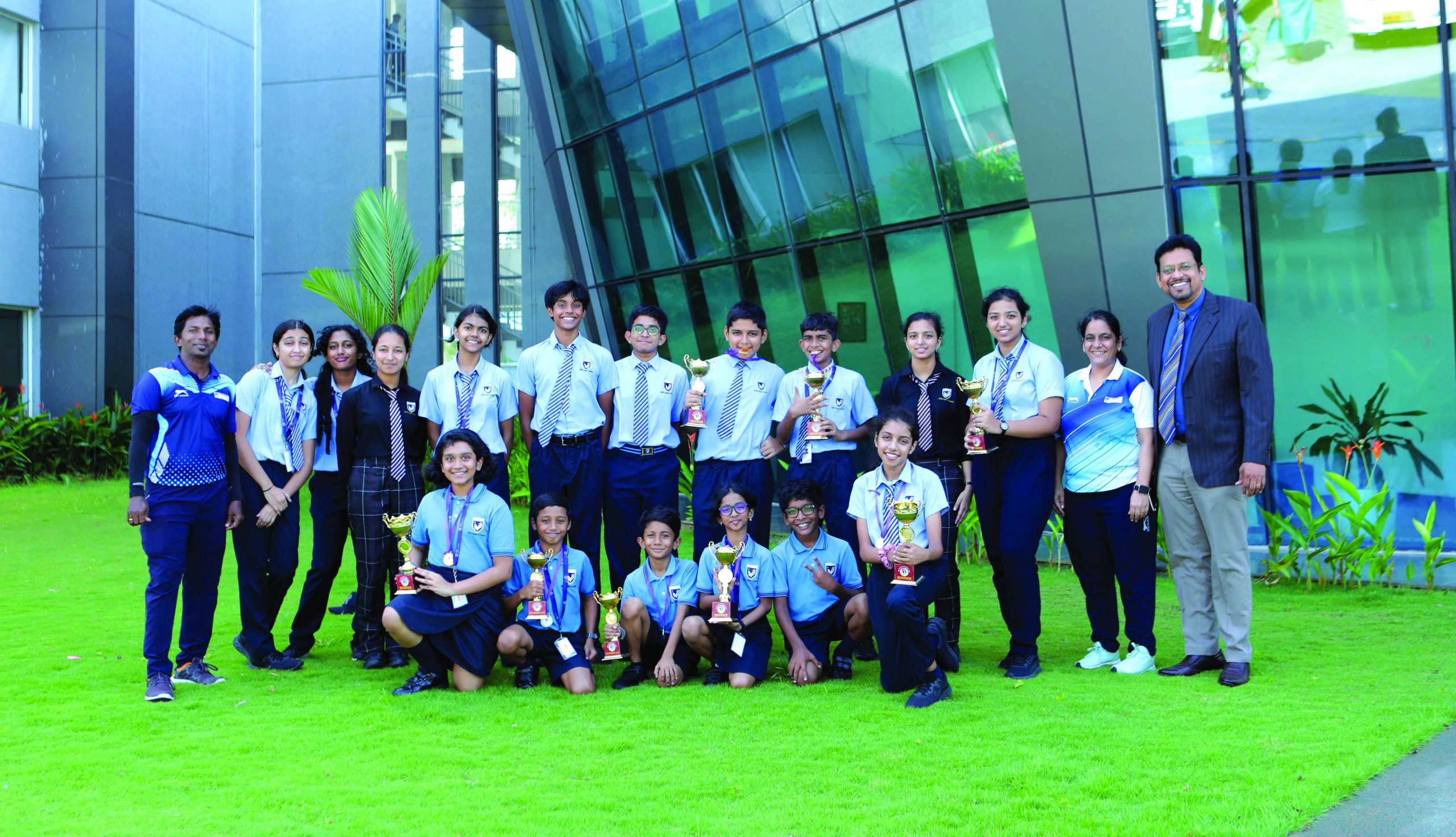 "We are proud to receive the India #1 award for best campus architecture and design. Our 8.3-acre green campus is sited in an ecologically sensitive and protected zone teeming with beautiful trees and avian species. From our sunlight-filled and marble-floored lobby to well-ventilated classrooms equipped with smartboards, the school buildings and facilities blend aesthetically with our green campus. Sports facilities are also state-of-the-art and include a football field, volleyball and basketball courts, cricket nets and skating rink besides a multi-purpose Emerald Hall and a magnificent swimming arena and climbing wall." — Biju Baby, Principal, GEMS Modern Academy, Kochi (976 students, 157 teachers)
Social Impact Award
Schools are assessed for encouraging student-led community service in school-sponsored regional or international community social impact projects.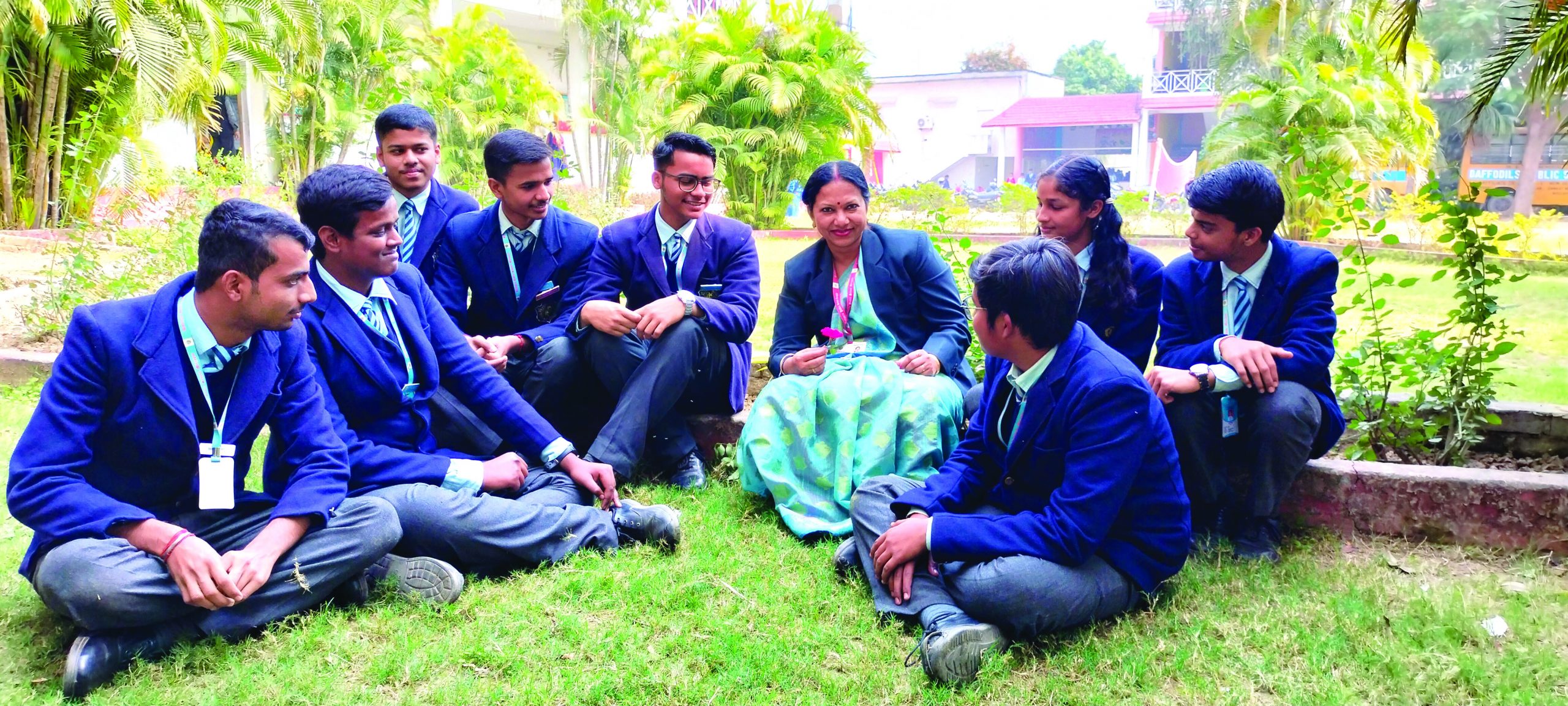 "We thank the EducationWorld Grand Jury for this prestigious award. Community and social service is an integral part of our school curriculum and culture. In our social outreach programmes, we routinely distribute foodgrains in the surrounding slums and orphanages, our children visit old age homes, organise environment conservation and tree planting campaigns. They also regularly organise charity cultural events to raise funds for NGOs including the Cancer Aid Fund. Recently the school adopted the Narghat area of River Ganga with the intent to clean and beautify it." — Kanchan Srivastav, principal, Daffodils Public School, Mirzapur (students: 2,450; teachers: 140)
SDGs Committed Schools
K-12 education institutions which have successfully integrated United Nation's Sustainable Development Goals (SDGs) into their curriculums to equip students with the knowledge, values, and skills necessary to shape a sustainable and prosperous world.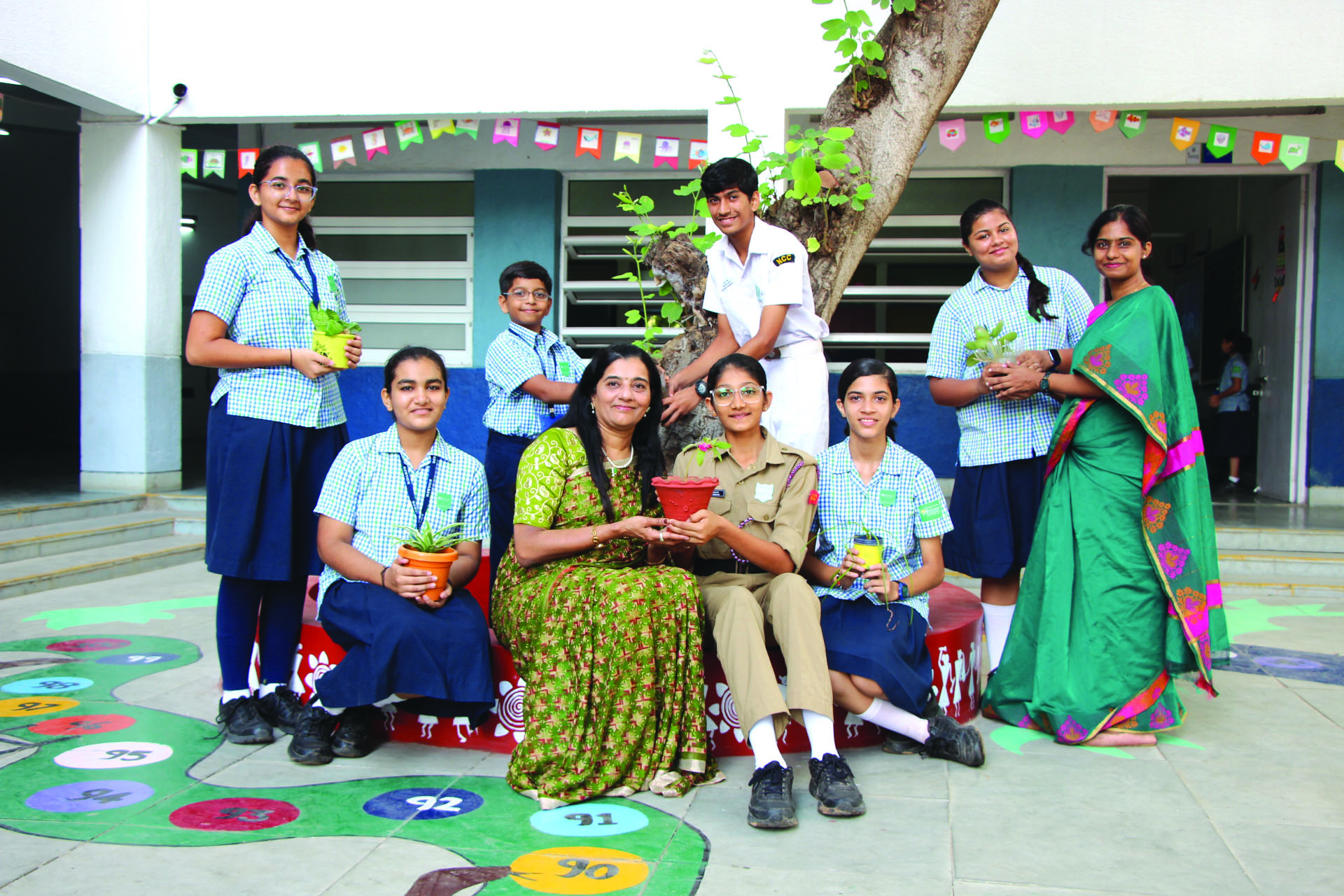 "We thank the distinguished EW Grand Jury for voting us India's #1 SDG Committed School. It validates the importance we accord to integrating UN's Sustainable Development Goals in our curriculum and preparing children to become responsible citizens with a global perspective and environmental awareness, providing an inclusive education environment and encouraging participation in community service activities among other initiatives. We have plans to join the Global Eco-Schools programme led by the Centre for Environment Education, India and the Foundation for Environmental Education, Denmark" — Anvita Kacker, Principal, Kokilaben Dhirubhai Ambani Reliance Foundation School, Jamnagar (3,167 students and 224 teachers)
Library & Reading Culture
Schools which provide library facilities and actively promote reading culture.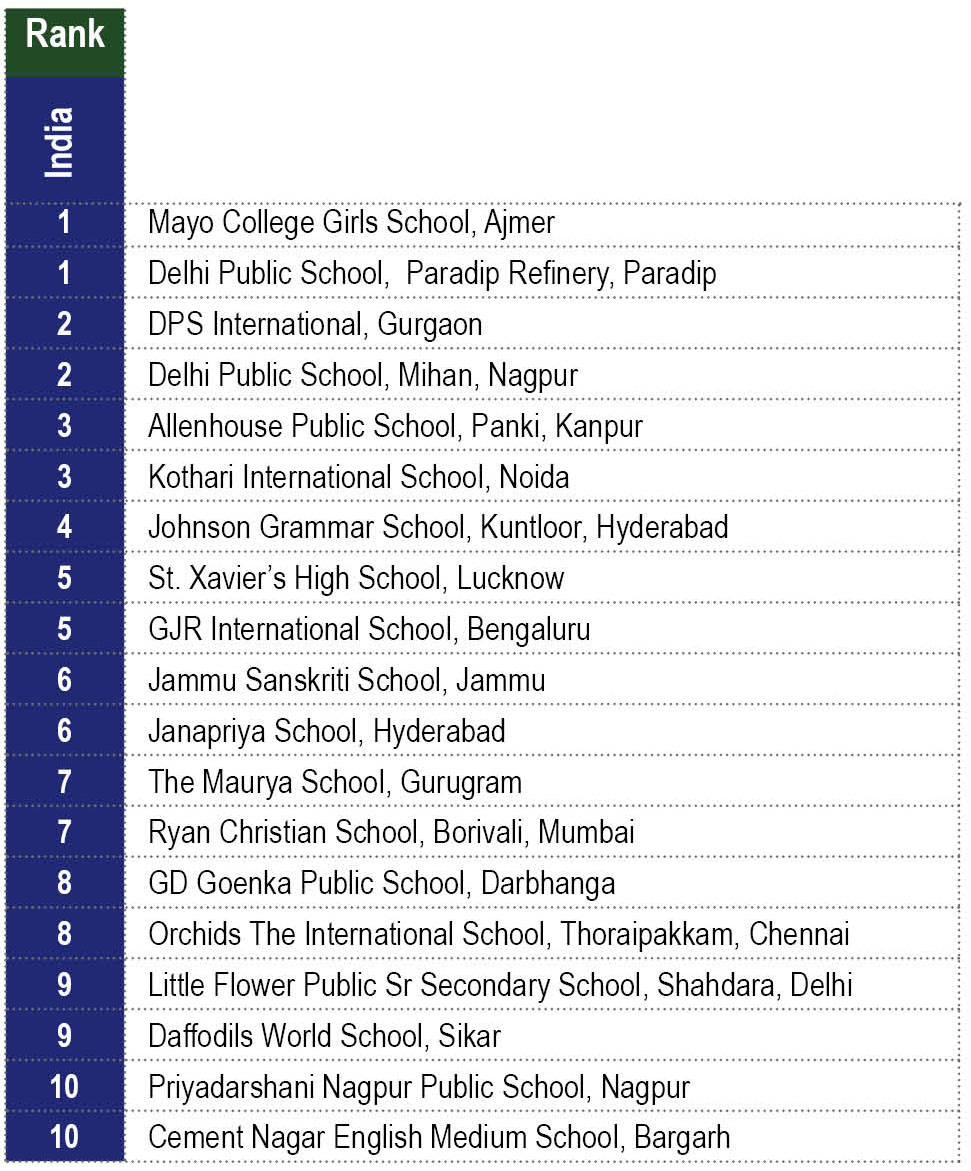 "We are deeply honoured by this recognition. It reinforces our commitment to nurture a culture of reading and lifelong learning among our girl students. Our junior and senior libraries together house 20,000 volumes and provide access to valuable digital resources. We routinely organise Book Review, Poetry Writing and Recitation competitions, to encourage children to develop love of reading in addition to hosting Book Reading and Film Viewing student clubs. Moreover Mayo Girls hosts an annual Literary Fest attended by well-known authors including Kevin Missal, Rupa Pai, Komal Ahuja, among others, and professionals are regularly invited to conduct creative writing, book review and theatre workshops. This year our students have planned to record audio books for children of a blind school in Ajmer." — Supreet Bakshi, Principal of Mayo College Girls School, Ajmer (777 students and 97 teachers)
Career Counseling Leaders
Progressive schools providing professional career counseling services to help students evaluate suitable university programmes based on their interests, aptitudes and intelligence.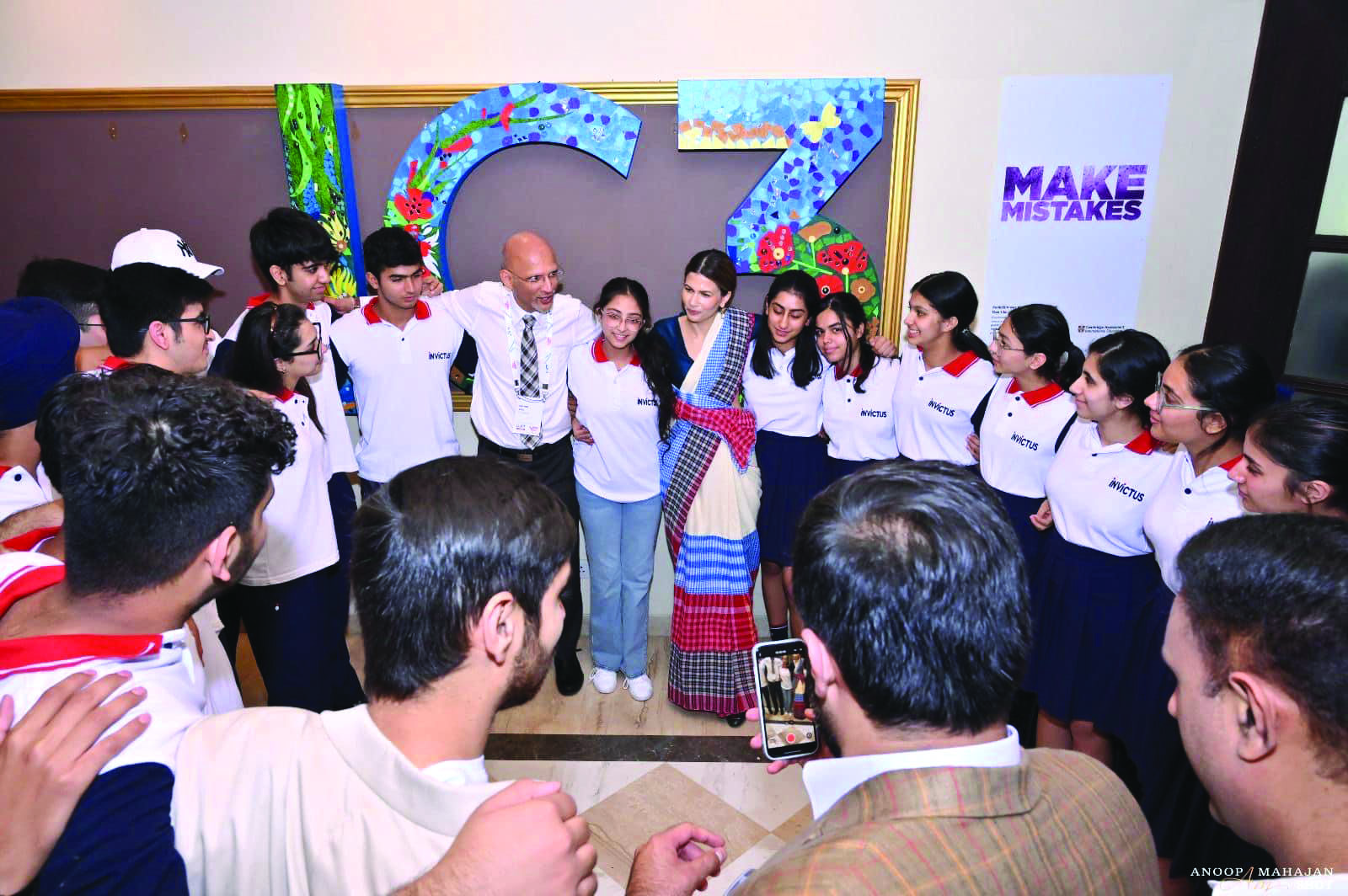 "We are honoured that an eminent Grand Jury has voted Invictus International India #1 for career counselling. Our career guidance services start as early as middle school with children counseled on areas of academic and personal growth. A cornerstone of our career programme is the provision of one-on-one counselling sessions for students and their parents, and the 'Explore with Experts' speaker series which brings college admission officers to the campus, providing students invaluable insights into the university admissions process. Moreover we also host the 'Melange' career fair which is attended by representatives from over 70 national and international universities providing students and parents' opportunities for direct interaction." — Manjot Dhillon (centre), Director, Invictus International School, Amritsar (1,600 students, 154 teachers)
Enabling Global Partnerships
Schools which have forged partnerships and collaborations with reputed schools, higher education institutions and global organisations to foster exchange of ideas, knowledge, faculty and students and promote inter-cultural understanding between institutions and nations.
"We are overjoyed to learn that Ashoka Universal is ranked India #1 for Enabling Global Partnerships. This is recognition of our efforts to provide students opportunities to develop global perspectives and engage in meaningful international exchange programmes. Our curriculum focuses on developing international outlook with students encouraged to be well-informed and engage with international issues. We also encourage participation in international exchange programs wherein our students engage with peers in schools from Russia, Ukraine, and Malawi. Recently, our students represented India at the United Nations, Geneva on International Peacekeepers Day 2023." — Renuka Joshi, Principal, Ashoka Universal School, Ashoka Marg, Nashik (2,676 students and 184 teachers).