In the co-ed day-cum-boarding schools 2019-20 EW league table, there is a constant churn with schools from new, better planned cities giving vintage, established schools in metros stiff competition.
When day schools become popular with parents and students in any city, they experience public pressure to transform into day-cum-boarding institutions to enable access to children in far-flung districts of a state, or even distant suburbs of India's ever expanding, ill-planned metros and larger cities.
Currently, there are 40 cities across the country with more than 1 million inhabitants and some metros such as Delhi, Mumbai and Kolkata grudgingly host over 12 million residents. Therefore in several metros where there is lebensraum, top-ranked day schools have transformed into co-ed day-cum-boarding schools which cater to children from distant districts of India's country-size states and increasingly distant urban suburbs. The island, land-starved city of Mumbai is perhaps the sole metro that doesn't host a high-quality day-cum-boarding school. The wisdom and/or expertise of constructing bridges to the mainland — a mere 5 km as the crow flies — has not dawned upon the suffering citizens of India's commercial capital.
With an increasing number of schools offering the option of day and residential schooling, co-ed day-cum-boarding schools are springing up across the country. Consequently, the annual EW league table of the best co-ed day-cum-boarding schools is in a constant churn with schools from new, better planned cities giving vintage well-established schools in metros stiff competition. Nevertheless the league table of India's most respected day-cum-boarding schools has been dominated by two centrally located vintage institutions in Delhi — Modern School, Barakhamba Rd (MSBR) and Delhi Public School, R.K. Puram (DPS-RKP) with the two alternatively voted the country's best every year.
This year, MSBR has pipped DPS-RKP to win the best seat at the top table of India's most preferred day-cum-boarding schools. Although on the critical parameters of teacher competence, teacher welfare and development and academic reputation, DPS-RKP is awarded higher scores by the EW sample respondents, with highest ratings under the parameters of co-curricular and sports education, leadership and infrastructure, MSBR is awarded a total score of 1,266 (of a maximum 2,000) cf. DPS-RKP's 1,265.
"Given the vigorous efforts of our faculty and students to excel in academics, co-curricular activities and sports, our #1 ranking this year is well-deserved. The hard work of our teachers and staff to reclaim our #1 position has borne fruit. It is also the result of all our stakeholders including our board of trustees' insistence and support for sustained excellence over the decades, that has made this top-ranking a natural expectation for MSBR," says Dr. Vijay Datta, a biology and engineering postgrad of Rajasthan University with a doctorate in life skills and emotional intelligence management awarded by the Regional Institute of Education, Ajmer. Moreover Datta acquired valuable teaching and admin experience at the blue-chip Mayo College (1991-2011) and Army School, Dagshai (2011-14) prior to being appointed principal of MSBR in 2016.
Datta is especially pleased that MSBR is ranked #1 in this category under the parameter of sports education. "The sports faculty of MSBR not only does a remarkable job of talent spotting but also works with extraordinary dedication to train our students. Moreover, we encourage sportspersons and coaches of international repute to set up sports clinics in the school to add that extra edge," says Datta.
The Delhi-based MSBR and DPS-RKP apart, this year's high table of India's most admired co-ed day-cum-boarding schools comprises the Emerald Heights International, Indore (estb. 1982) jointly ranked #2 (as in 2018-19), Greenwood High, Bangalore #3 (3) co-ranked with Sai International, Bhubaneswar #3 (3), Sanskaar Valley School, Bhopal #4 (4) and the Hyderabad Public School, Begumpet #5 (6) ranked within the Top 5 for the first time.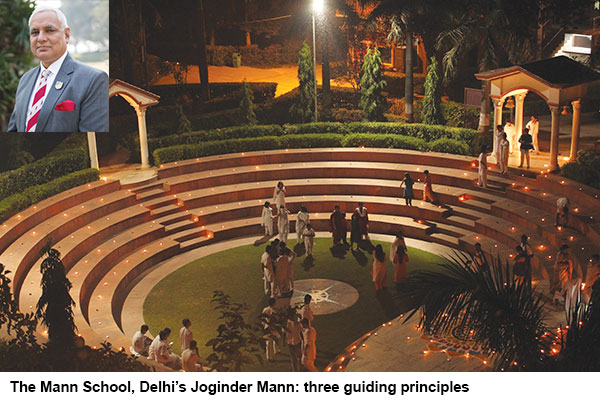 Further down the national 2019-20 co-ed day-cum-boarding schools league table, DPS Vasant Kunj, DPS Dwarka and DPS, Mathura Road — all in Delhi — are ranked #6-8 although they have each lost one rank this year. The Pallikoodam School, Kottayam #9 (11) — promoted in 1967 by well-known educationist Mary Roy, mother of Booker Prize winner Arundhati Roy and the setting of her award-winning novel The God of Small Things (1997) — is co-ranked with DPS, Noida (8) and DPS, Faridabad (9) jointly ranked #10 with The Mann School, Delhi (12) to complete the 2019-20 Top 10 table.
It's noteworthy that six DPS schools promoted by the Delhi-based Delhi Public School Society registered in 1937 by a clutch of former Central government bureaucrats, are ranked among the country's Top 10 co-ed day-cum-boarding schools. The DPS Society comprises 203 K-12 schools in India and abroad established under the owned and franchised schools model.
Further down the 132-strong league table of co-ed day-cum-boarding schools sufficiently reputed for inclusion in the EW 2019-20 league table, the vintage Yadavindra Public School, Patiala #13 (17), Royal Global School, Guwahati #15 (19) and Gyan Ganga International, Jabalpur #17 (20) have risen in public estimation. Daly College, Indore (ranked #1 in 2015) at #11, DPS, Greater Noida #12 have retained their last year's rankings and the previously unranked Sunbeam School, Bhagwanpur, Varanasi has debuted at #18. These institutions apart, most other co-ed day-cum-boarding schools countrywide have been obliged to cede ground.
"We are really pleased to be ranked among India's Top 10 day-cum-boarding schools and #6 in Delhi state in EducationWorld's honest, merit-based EWISR 2019-20. For the past 30 years since The Mann School began operations, we have focused on instilling the three principles of discipline, knowledge and patriotism in our students to enable their intellectual, physical, and social growth. When TMS students graduate, these values stand them in good stead to build lives of consequence. Some of the best practices that have become part and parcel of TMS are provision of globally comparable infrastructure that facilitates academic achievement, and a wide range of co-curricular activities and sports and games options that develop competitive spirit and the will to win of our students," says Joginder Singh Mann, promoter-chairman of The Mann School, Delhi.
An English (Honours) graduate of Delhi University and a senior manager of the Taj Group of luxury hotels for eight years, in 1989, Mann answered to a higher calling and promoted TMS on a 20-acre plot in Delhi with the objective of "nurturing bright, intelligent and progressive citizens of tomorrow". The school's spectacular ascent up the annual EWISR — TMS was ranked #50 in 2015, #25 in 2016, and #12 last year and has broken into the national Top 10 this year — is an indicator that it is well on its way to achieving Mann's objective.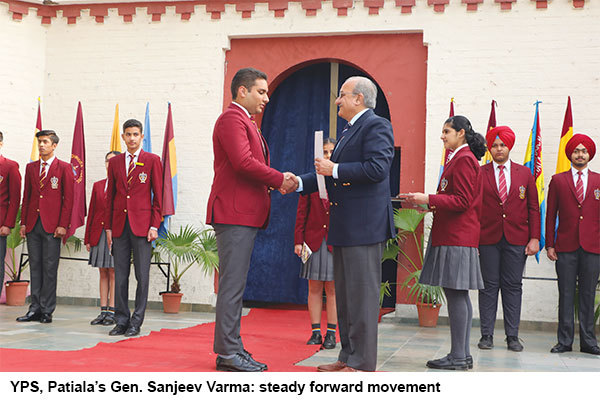 Likewise Major General Sanjeev Varma, VSM (Retd.), director of the Yadavindra Public School, Patiala (YPS, estb.1948), ranked #13 nationally and #1 in Punjab (pop. 28 million) in this category is also satisfied with the continuous progress of this vintage co-ed school promoted by Maharajahdhiraj Yadavindra Singh (1914-1978), the much loved ruler of the erstwhile princedom of Patiala with an initial batch of 21 boy students mentored by nine teachers. Ten years later, YPS transformed into a co-ed day-cum-boarding school. Currently, this K-12 school affiliated with CISCE (Delhi) has 1,509 students, including 564 girl children, mentored by 105 teachers on its muster rolls.
"It's gratifying to learn that YPS has been steadily moving upwards in the rankings ladder of the annual EWISR which is based on elaborate survey parameters. In the long race to reach the epitome of excellence, it's satisfying that we are moving forward steadily. This is because of rising public awareness that we are expanding our facilities in academics and sports education through effective use of new digital technologies, and simultaneously according great importance to developing the leadership and soft skills of our students," says Gen. Varma, an alum of Delhi University, the Indian Military Academy, Dehradun and National Defence College, Delhi, with a distinguished service record of 36 years in the Indian Army, who was appointed director of YPS in 2016.
Beyond the Top 20 in the long league table of over 100 co-ed day-cum-boarding schools rated and ranked in EWISR 2019-20, most have yielded some ground. Among the exceptions are the Geekay World School, Vellore, ranked #25 (28), DPS, Bareilly #26 (36), Sunbeam Varuna, Varanasi #29 (83), Doon International, Dehradun #30 (31), Vallabh Ashram's MGM Amin & V. Savani School, Valsad (Gujarat) #34 (35) and Dalimss Sunbeam, Rohania, Varanasi #40 (272). However, it is pertinent to bear in mind that co-ed day-cum-boarding schools essentially tend to be day schools with small contingents of boarders. Therefore, their city and state rankings are perhaps more important than national rank.
For instance, the Neerja Mody School, Jaipur ranked #15 nationally is the #1 co-ed day-cum-boarding school of Jaipur (pop.3 million) and Rajasthan (68 million). Likewise, the Geekay World School, Vellore ranked India #25 is #1 in Tamil Nadu (pop. 67 million), and Sanjay Ghodawat International, Kolhapur India #17, is top-ranked in Maharashtra (pop. 115 million), India's most industrialised state.
Similarly, the Sunbeam School, Bhawanpur, Varanasi, ranked India #18 is the #1 co-ed day-cum-boarding school in Uttar Pradesh, the country's most populous state (215 million).
Therefore, while advertising and propagating the virtues of their institutions, leaders and managements of day schools, including co-ed day-cum-boarding schools, are advised to slice and dice the EWISR 2019-20 league tables (including parameter rankings) to project their accomplishments intelligently and not be disheartened or misled by national rankings which are of ornamental value for day schools.