In EWISR 2020-21, the two-year reign of the Delhi state government's Rajkiya Pratibha Vikas Vidyalaya, Sector 10, Dwarka, which sensationally ended the dominance of Central government-run Kendriya Vidyalayas, has ended – Paromita Sengupta
The Covid-19 outbreak and isolation which has forced closure of 1.4 million anganwadis (government-run child nutrition and early childhood education centres), 60,000 private pre-primaries, 1.5 million K-12 schools, 41,907 colleges and 1,028 universities since mid-March, has given a new lease of life to India's floundering 1.20 million government schools. The vast majority of them — except for the Central government- funded 1,232 Kendriya Vidyalayas and 636 Jawahar Navodaya Vidyalayas — are negligently managed by state and local governments.
But with an estimated 11 million employees and workers suffering loss of jobs and income following closure of public transport, businesses and MSMEs (micro, small and medium enterprises), and household budgets stretched tight, free-of-charge government schools and heavily subsidised Kendriya Vidyalayas have become the only options for working and lower class households, which hitherto have been voting with their wallets and enrolling their progeny in affordable private budget schools whose number is estimated at 450,000 countrywide.
Therefore choosing the best government school has become an important priority for a large number of households countrywide. This year to rate and rank India's most respected government schools on 14 parameters of school education excellence, field representatives of our partner agency C fore interviewed 1,046 SEC (socio-economic category) 'B', 'C' and 'D' respondents across the country. The perceptual scores awarded by respondents under the 14 parameters were totaled to rank best government schools.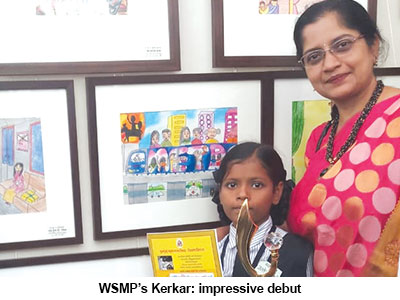 In the EWISR 2020-21, the two-year reign of the Delhi state government's Rajkiya Pratibha Vikas Vidyalaya (RPVV), Sector 10, Dwarka, Delhi, which sensationally ended the long run of the Central Kendriya Vidyalayas last year sparking wild jubilation in the Delhi state government, has ended. Kendriya Vidyalaya (KV), Pattom, Thiruvananthapuram (Kerala), ranked #1 in 2016-17 but #4, in the next two years, is voted #1 again with top scores under seven parameters of education excellence.
Within the Top 5, RPVV, Sector 10, Dwarka, Delhi has been pushed down to #2 followed by Kendriya Vidyalaya-IIT Madras, Chennai (#2 in 2019-20) jointly ranked with the Kerala state government's celebrated Government Vocational Higher Secondary School for Girls, Nadakkavu, Kozhikode at #3. The previously unranked Worli Seaface Mumbai Public English School has debuted at #4 and is co-ranked with KV-IIT Bombay. RPVV, Sector 11, Rohini is promoted to #5 jointly with the Odisha government's Odisha Adarsha Vidyalaya, Hatiota. Evidently some state schools are beginning to challenge KV dominance in the government day schools category.
"During the previous two years following our slipping to #4 rank, we drew up a comprehensive plan to identify our flaws and address and improve our perceived weak areas. We are especially pleased that KV-Pattom is awarded the highest score under the parameter of curriculum & pedagogy (digital readiness). Since March, our teachers have successfully conducted real-time online classes through digital platforms such as Google Meet, Zoom. Continuous improvement under all parameters of EWISR has become our mantra," says Ajaya Kumar, a maths postgraduate of Kerala University and currently principal of KV, Pattom (estb.1964) which has an aggregate enrolment of 4,500 students mentored by 117 teachers on its muster rolls.
Although the seating order at the Top 5 table of government schools has been rearranged because of the entry of two previously unranked schools, it's noteworthy that this year's Top 15 continues to be dominated by the Central government's well-funded Kendriya Vidyalayas. Ten KVs are ranked in the 22-strong league table of government day schools with the previously unranked KV, Cochin making an impressive debut within the Top 10 at #6.
However the Delhi state government which allocates a larger share of its budget to education than any other state is giving the KVs stiff competition. Four RPVVs are ranked among the Top 10 in 2020-21.
Refreshingly because of continuous flight of students from government to private schools, even local governments are upgrading and improving their schools. A case in point is the Worli Seaface Mumbai Public English School (WSMP, estb.2000) of the Municipal Corporation of Greater Mumbai which has made an impressive Top 5 table debut at #4.
"Ours is perhaps the first municipal school ever to be ranked in the Top 5. We thank our teachers and non-teaching staff and especially BMC education officer Mahesh Palkar, for their dedication and hard work. Following a major renovation drive recently, we are now able to provide our students a stimulating ICT (information communications technologies)-enabled learning environment. After the Covid-19 outbreak forced mass closure of schools countrywide, our teachers were able to quickly switch to online classes delivered on digital platforms such as Zoom, Diksha, WhatsApp and Telegram apps and MCGM channel. We will continue to improve our online teaching techniques to mature into the country's best government school," vows Bageshree Kerkar, an alumna of Bombay and Maharashtra Open universities and principal of WSMP.
Proof that state governments are beginning — even if belatedly — to accord serious attention to raising teaching-learning standards in K-12 education is provided by the spectacular Top 5 debut of Odisha Adarsha Vidyalaya, Hatiota (OAV-H), one of 214 CBSE-affiliated schools promoted under the aegis of the Odisha Adarsha Vidyalaya Sangathan (OAVS) — an unprecedented initiative launched in 2015 by the Biju Janata Dal (BJD) government of Odisha to establish one CBSE English-medium class VII-XII school in each of the state's 314 districts.
"We are delighted that OAV, Hatiota is ranked India's #5 government day school within a span of four years since we admitted our first batch in 2016. Although the school is doing really well and has 166 boys and 256 girls instructed by 117 teachers, all our 214 OAVs have quickly adapted to provide technologies-enabled learning environments to our students in the Covid-19 pandemic era. We have integrated our robust ERP and OAV website with Moocs and SWAYAM, e-CBSE, e-Pathshala, Diksha, Khan Academy, AQAD and Mind spark apps. By December, we intend to complete construction of the remaining 100 OAVs and additionally develop a model school in Bhubaneswar which will share best practices with other OAVs," says Lingraj Panda, IAS, state project director, OAV Sangathan.
It's self-evident that raising teaching-learning standards and learning outcomes in the country's 1.2 million government K-12 schools in which 53 percent of India's 260 million children are passively receiving ritual rather than real education, is the precondition of India's long-delayed education and social renaissance. Against this backdrop, the OAV initiative of the outlier Odisha state government offers an excellent blueprint worthy of nationwide replication.
Also read: Top-ranked government boarding schools