Affiliated with offshore school-leaving examination boards, international residential schools are the country's most prestigious (and expensive) primary-secondaries sprawled across expansive campuses in scenic hill stations. Here are India's best international residential schools 2020-21.
Ranked separately in an exclusive category since 2013, international residential schools are the country's most prestigious (and expensive) primary-secondaries. Sprawled across expansive campuses — usually in scenic hill stations — these elite residential schools affiliated with offshore school-leaving examination boards such as Cambridge International (UK), International Baccalaureate (Geneva/The Hague) and College Board (USA), offer globally comparable holistic education, and advanced pastoral care and counseling services.
Right from the start, this category has been dominated by the country's two vintage schools affiliated with IB (Geneva) — Woodstock School, Mussoorie (estb.1852) and Kodaikanal International School (KIS, estb.1901) — promoted by American education missionaries. For two consecutive years in 2013 and 2014, KIS was voted the #1 international residential school, and Woodstock was top ranked in 2015 and 2016. The hegemony of these two institutions was broken in 2016 by the home-grown, superbly equipped Good Shepherd International School, Ooty (estb.1977), which dominates the ancient hill station of Ootacamund (aka Ooty) down south in Tamil Nadu, which was jointly ranked #1 with Woodstock. In the past four years however, Woodstock has regained its #1 ranking in the international residential schools league table.
This year, the 11,368 sample respondents polled by the Delhi-based market research company C fore have once again voted the 168-year-old Woodstock #1 in this category and top-ranked it on ten of the 12 parameters of education excellence including teacher competence, academic reputation, curriculum and pedagogy (including digital readiness) and internationalism. Sited high on a 250-acre sylvan campus in the Himalayan foothills, Woodstock offers its 450 students the early, middle years and diploma programmes of the International Baccalaureate, Geneva.
"We are delighted to have retained our #1 international residential school ranking of 2019-20 in this year of huge teaching-learning challenges posed by the global Covid-19 pandemic. Though I am gratified with our high scores on all the survey parameters, the one which resonates the most is our highest score for internationalism. I am especially pleased that Woodstock is ranked #1 on this parameter across all categories of international schools because we are truly international with a student body cutting across cultures, convictions and religious faiths. Students learn from each other and their teachers in a way that brings out the best in humanity. I'm proud that students who graduate from Woodstock invariably become true global citizens, with a worldview which transcends borders, and an inherent desire to serve the whole of humanity," says Dr. Craig Cook, principal of Woodstock, Mussoorie. An intercultural studies and theology alumnus of Biola University, California and Ateneo de Manila University, Philippines, which awarded him a Ph D in sociology, Cook brought over 30 years of teaching and admin experience in schools and community development projects in the US, Philippines and Indonesia, when he was appointed principal of this top-ranked school in 2019.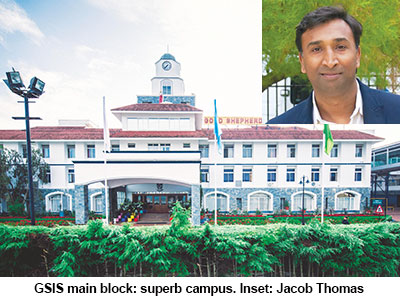 Ranked runner-up for the fourth consecutive year is the Good Shepherd International School, Ooty (GSIS) followed by Kodaikanal International School #3 for the third successive year. Founded in 1977 by extraordinary visionary Dr. P.C. Thomas (1943-2020) who passed on in June, the superbly equipped campus of GSIS sprawls across 180 acres which host junior and senior schools, an organic farm and dairy which supplies the school, excellent residential accommodation for students and staff, the largest music school countrywide and several huge playing fields. GSIS has been awarded top scores on the parameters of co-curricular and sports education, individual attention to students and community service, and the second highest score for infrastructure.
"GSIS, lovingly nurtured over four decades, offers the widest co-curricular and sports education options of any school worldwide, and an unprecedented 1:4 staff-pupil ratio that ensures every child receives individual attention and excellent pastoral care in a 'home away from home' environment. Moreover, our already excellent infrastructure will soon improve further as several projects started by Dr. Thomas on our major Pallada campus are nearing completion and we look forward to welcoming students to an upgraded integrated campus next year," says Jacob Thomas, the newly appointed president of GSIS.
A business administration graduate of the University of Massachusetts, Lowell who built a successful career in the US in the IT sector (senior director, NetApp Inc, a Fortune 500 company), Jacob was persuaded by his mother Elsamma, co-founder of GSIS, to return from the US and help her realise Dr. Thomas' dream to develop GSIS into a global Top 10 wholly residential school.
Beyond the Top 3, in this category of high-end, capital-intensive international residential schools, UWC Mahindra College, Pune, ranked #4, Hebron, Ooty #5, Cathedral Vidya, Lonavala #6, SCAD World School, Coimbatore #7 and MIT Pune's Vishwashanti Gurukul #8 have all retained their 2019-20 rankings.
Dr. John Abraham, principal of the relatively recently promoted (2012) Cambridge International (UK)-affiliated SCAD (Social Change and Development) World School (SWS), sited on a 120- acre campus within the 500-acre Scad Knowledge City on the outskirts of Coimbatore (Tamil Nadu), is satisfied to be numbered among India's Top 10 high-end international schools and #3 in Tamil Nadu (pop.67 million).
"We are a relatively new institution and therefore pleased to be ranked among the country's best, much older international residential schools. Drawing on their example and best practices, we have spared no pain or cut any corners to transform SWS into a thoroughly contemporary, globally benchmarked international school. I dedicate this award to our hardworking and committed teachers who have risen enthusiastically to confront the challenge of delivering personalised online learning to our children. The annual EWISR and the healthy competition it promotes in each category under 14 parameters is a roadmap for our continuous and sustained development," says Abraham, a geography graduate of Bangalore University and former principal of Comorin International School, Kanyakumari, who was appointed principal of SWS, which has 103 students and 20 teachers on its muster rolls, last year.
Also read: India's top-ranked international day schools 2020-21