It's a sobering reminder to a nation being swayed by antiminority rhetoric that four of the Top 5 private autonomous colleges are institutions promoted by various orders of India's minuscule Christian community
In these troubled times when the damage inflicted upon the economy and society by the rampaging coronavirus aka Covid-19 is being compounded by the anti-minority majoritarianism of the ruling Bharatiya Janata Party (BJP) and its ideological mentor organisation, the Rashtriya Swayamsevak Sangh (RSS), it's a sobering reminder to the nation that four of the Top 5 in the EducationWorld India Private Autonomous Colleges Rankings 2020-21, are missionary institutions promoted by various orders of India's minuscule (2.3 percent of the population) Christian community. Ditto two of the Top 5 in the league table of the Top 100 non-autonomous colleges ranked separately in the EducationWorld India Higher Education Rankings 2020-21.
In these difficult times when the country is being divided by politicians and the economy debilitated by the coronavirus epidemic, it is apposite to appreciate the huge contribution that the minority Christian community and particularly its men and women of the cassock and habit, have made to undergraduate education in post-independence India.
Contrary to popular belief, autonomous colleges and universities aren't necessarily financially independent institutions. Autonomy is conferred upon them by the Delhi based University Grants Commission (UGC) in acknowledgement of their superior academic standards and better learning outcomes. Under its charter, UGC (estb.1956) monitors and regulates all colleges and universities in India (except higher education institutions directly established by Acts of Parliament (IISc, IITs, IIMs etc) and technical education institutes supervised and regulated by the Delhi-based AICTE (All India Council for Technical Education).
Under ss.12 and 26 of the UGC Act, 1956, the commission is empowered to confer autonomy on selected undergrad colleges of over ten years of standing with A Grade NAAC (National Assessment and Accreditation Council of India) certification, if they apply for autonomous status. However, award of autonomy to colleges of ten years-plus standing and NAAC A grade certification is not automatic. Additional inspection and certification of high academic and administrative standards by specially constituted UGC task forces is necessary. In short, the country's 747 (December 2019) autonomous colleges (out of a total 39,931 countrywide) are officially acknowledged as a class apart and above the vast majority of the country's undergrad colleges.
In the circumstances, it's unsurprising that Dr. Rajendra Shinde, principal of St. Xavier's College, Mumbai (SXM, estb.1869), is delighted this 151-year-old college is ranked national #1 in the inaugural EducationWorld India Private Autonomous Colleges league table with top scores under four — faculty competence, faculty welfare and development, curriculum and pedagogy and leadership — of the five parameters of education excellence by which colleges have been evaluated this year. SXM provides high-quality arts, science and commerce degree and some postgrad progammes and has introduced its own self-designed Bachelor of management studies (BMS) and Bachelor of mass media, B.Sc (IT) and Masters in ancient Indian culture and archaeology among other innovative study programmes.
"I am very happy to learn that your knowledgeable sample respondents across India have ranked St. Xavier's Mumbai the country's #1 private autonomous college. It is a privilege to be placed first in this new category. Nevertheless, SXM is still a work in progress. We are continuously reinventing ourselves for the greater good of faculty and students. We were the first college in Mumbai to be conferred autonomy, and as such we have the freedom to introduce new courses to address the changing educational needs of our millennial learners. Therefore, we have signed course design and delivery agreements with leading companies and organisations to introduce more application and industry oriented courses. For instance, in the past academic year, we successfully launched several innovative, skill oriented courses — M.Sc in big data analytics in collaboration with Tata Consulting Services — a new study programme running to full capacity; M.Sc in physics (astrophysics) in collaboration with the Tata Institute of Fundamental Research and InterUniversity Centre for Astronomy & Astrophysics, Pune; a Masters programme in lifespan counselling and postgrad diploma in expressive arts therapy. And in the coming year we intend to introduce Masters programmes in art conservation and economics," says Shinde, who has served in various positions — reader, exam controller, vice-principal — at his alma mater (SXM) before being appointed the first non-Christian principal of this Jesuit college in 2018. Currently, SXM has 5,500 students and 160 faculty on its muster rolls.
Similarly, glad tidings that Mount Carmel College, Bangalore (MCC, estb.1948), which was ranked #10 in the EW amalgamated arts, science and commerce colleges league table of 2019-20, has been elevated to #4 in the private autonomous colleges league table this year, has also been received with euphoria. "This promotion and accolade has given us deep joy, pride and fulfilment. It's an endorsement that MCC is well respected and recognised for its achievement in empowering women by equipping them with quality higher education," says Dr. Sr. Arpana, principal of this 72-year-old undergrad/postgrad college which is also India's #1 private autonomous all-women college.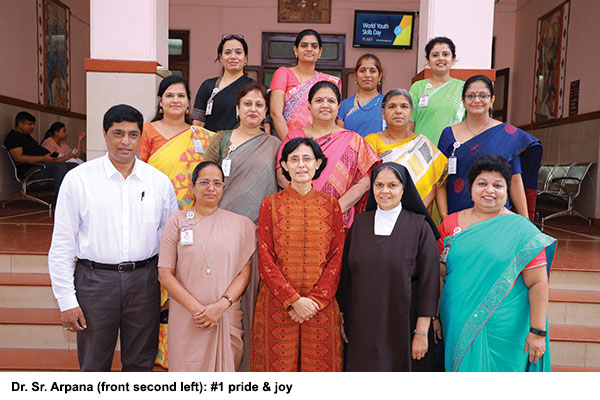 Unlike somewhat less enterprising academics — notably faculty of St. Stephen's College, Delhi and Lady Brabourne College, Kolkata who have dissuaded their managements from applying for autonomous status (see p.60) — Dr. Arpana is proud that MCC applied for and was duly awarded autonomous status by UGC way back in 2005. "With autonomy comes greater responsibility. But in MCC we welcome the responsibilities of framing our own syllabuses and aligning our curriculums with the requirements of industry and business which enables us to make our students market ready. Since we were awarded autonomous status 15 years ago, we have introduced over 100 value-added credit courses in our Extended Education Programme to help students to go beyond the curriculum and enhance their employability skills. Moreover, we have signed faculty and student exchange and collaboration agreements with five universities abroad and internship agreements with 40 corporates. As an autonomous college we also have the freedom to conduct our own examinations and have designed a transparent examination system which declares results in record time," says Dr. Aparna, a psychology graduate of MCC with postgrad and doctorate qualifications from Bangalore and Mysore universities who joined MCC as a psychology lecturer in 1991 and was appointed principal of MCC in 2014.
Currently, the all-women MCC, promoted seven decades ago by Ernakulam-based Carmelite Sisters of the St. Theresa order and sited on a neat 9.5 acre campus on Bangalore's upscale Palace Road, has 7,500 women students and 361 faculty on its muster rolls.
Although this year's league table of India's private colleges conferred autonomous status by UGC is dominated by vintage institutions promoted by Christian scholar missionaries, new genre colleges promoted by lay philanthropists and trusts are also rising in the esteem of knowledgeable monitors of the higher education sector. Two Mumbai-based private colleges — the Mithibai College of Arts, Chauhan Institute of Science & Amrutben Jivanlal College of Commerce (popularly Mithibai College) and the R.A Podar College of Commerce & Economics — conferred autonomy by UGC and well-regarded for their commerce and finance study programmes, are tied at #5 nationally with high scores under the parameters of curriculum and pedagogy and leadership/governance.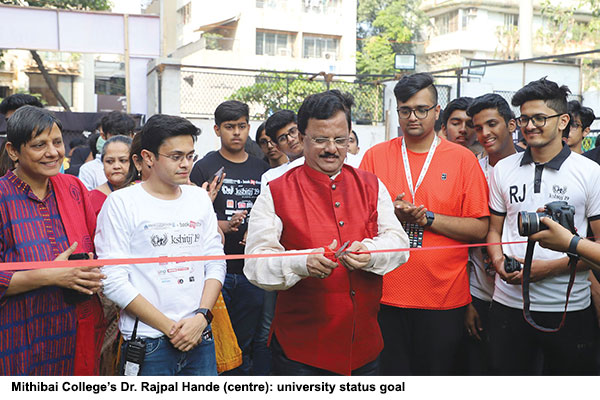 "Naturally we are delighted that our ranking in the properly classified ranking tables, which eliminate apples and oranges type comparisons, has improved from #9 in 2019-20 to #5 this year. We owe our continuous improvement to the great support we get from our visionary and supportive trustees of the SVKM Trust, dedicated faculty and talented, highly aspirational students. As a Grade A autonomous college of Mumbai University we have full freedom to reform and revise our curricula and introduce new degree and diploma programmes to prepare our graduates to compete globally. Over the past four years we have revised our syllabuses, updated our curriculums, and introduced new study programmes driven by latest ICT (information communications technology) to empower our faculty to deliver highly effective, contemporary education and create conducive learning environments to our students. We plan to multiply the number of innovative inter-disciplinary courses and work towards establishing Mithibai as a standalone university in the near future," says Dr. Rajpal Hande, a zoology postgrad of Mumbai University, former principal of Somaiya College of Arts and Science, Mumbai (2003-08), former director, Board of College and University Development and international cooperation officer of Mumbai University (2008-13) who was appointed principal of Mithibai College (estb.1961) in 2016.
Beyond the Top 5, several private colleges recently conferred academic (and financial) autonomy, have bettered their last year's ranking in the EW integrated ASC (arts, science and commerce) colleges league table of 2019-20 and are included in the Top 10. Among them: the R.A. Podar College of Commerce & Economics, Mumbai promoted to #5 from #17 in 2019-20; St. Ann's College for Women, Hyderabad to #6 (#1 in Telangana) jointly with St. Xavier's, Kolkata (15); St. Francis College for Women, Hyderabad to #7 (15) jointly with the previously unranked Rajgiri College, Kochi (#1 in Kerala) and the previously unranked Andhra Loyola College, Vijaywada to #10 (#1 in Andhra Pradesh).
In this connection, it's important to note that colleges that are modestly ranked in India, i.e, nationally, are often top-ranked in their host states and cities. For instance, the S.S. Jain Subodh P.G. College, Jaipur ranked India #17, is the #1 private autonomous college of Rajasthan (pop.78 million). Ditto Khalsa College, Amritsar, India #39 is top-ranked in Punjab (pop.30 million). Similarly, the #1 private autonomous college of Madhya Pradesh (pop.84 million) is the Bhopal School of Social Sciences (India #45) and the Ewing Christian College, Prayagraj (aka Allahabad) ranked #53 nationally is top-ranked in Uttar Pradesh (pop.215 million).
Among other colleges modestly ranked nationally but top-ranked in their host states: Parvatibai Chowgule College of Arts & Science, Margao, ranked #1 in Goa, India #54; St. Joseph's, Jakhma, Nagaland #1 (56), Bhadrak College, Bhadrak #1 in Odisha (62) and St. Xavier's College of Education, Patna, Bihar #1 (78).