International Day-cum-Boarding Schools have become the preferred choice of SEC 'A' households aspiring for international K-12 certification and holistic education experiences for their children
Within the broad category of international schools (defined as primary-secondaries affiliated with offshore examination boards), international day-cum-boarding schools are highly fancied because they offer the best of both worlds — day and boarding options. Invariably sited on sprawling campuses in the outskirts of the country's major metros and state capitals, and equipped with excellent academic and sports infrastructure, they have become the preferred choice of the multiplying number of upper middle class, SEC 'A' households aspiring for international K-12 certification and holistic education experiences for their children.
Since 2013 when schools separately ranked in the day, boarding and international categories in the annual EW India School Rankings were sub-divided into ten separate categories to eliminate apples and oranges comparisons, the international day-cum-boarding school league table has been dominated by the Indus International School, Bangalore (IIS-B, estb.2003), which was also ranked #1 in the undivided category of international schools in 2012.
For a record seventh year, this year's sample respondents comprising 3,155 parents, educationists, principals and teachers in south India have voted the IB and CAIE-affiliated IIS-Bangalore India's #1 international day-cum-boarding school by a wide margin. Another Bangalore-based day-cum-boarding school Greenwood High International is ranked #2 for the second consecutive year jointly with Pathways World School, Aravali, Gurgaon. It's also pertinent to note that the Indus domination of this league table is not limited to IIS-B. Two affiliated Indus International Schools in Pune and Hyderabad, masterminded by the Indus Trust, Bangalore (estb.2003) chief executive Lt. Gen (Retd.) Arjun Ray, are ranked among the Top 10.
"We are elated that IIS-B has retained its #1 position for the seventh consecutive year in this increasingly competitive category. I believe our commitment to continuous improvement and innovation to create self-directed learners equipped with 21st century critical thinking and problem solving skills, has favourably impacted your informed sample respondents. Recently, IIS-B became the first school in India to introduce a robot as learning companion in some of our classrooms. Robots will deliver routine syllabus content which will enable teachers to focus on developing higher order thinking and life skills of our students. Moreover, there is spreading awareness of the globally benchmarked teacher development programmes we deliver to our own and other teachers through our widely acclaimed Indus Training & Research Institute," says Sarojini Rao, an economics and education alumna of Pune and Annamalai universities and principal of IIS-B. Currently, IIS-B has an enrolment of 1,113 students including 246 boarders from 29 countries around the world, mentored by 132 highly-qualified teachers.
While IIS-B, Greenwood and Pathways have consolidated their position among India's Top 3 international day-cum-boarding schools, there's a rearrangement of seating at the Top 5 table. Canadian International School, Bangalore has risen in public esteem to be ranked #3 (#5 in 2017), but Genesis Global School, Noida, at #4 (3) and The International School, Bangalore, at #5 (2) have yielded ground in 2018-19.
Moreover, this year's sample respondents have ranked Indus International School, Pune #6 (4), Singapore International School, Mumbai #8 (6) and the media-shy Stonehill International School, Bangalore #9 (7). On the other hand, they have promoted Jayshree Periwal International School, Jaipur to #6 (9), KiiT International School, Bhubaneswar to #7 (8), Fravashi International Academy, Nasik to #9 (10), Indus International School, Hyderabad to #10 (11) and Lalaji Memorial Omega International School, Chennai to #10 (15).
Dr. Jayshree Periwal, founder-CEO of the CAIE (UK) and IB (Geneva)-affiliated Jayshree Periwal International School, Jaipur (JPIS, estb.2011) is exuberant about JPIS' steady ascent in EW's international day-cum-boarding schools league table. "The promotion of JPIS — a young international school — from #9 in 2017-18 to #6 this year is a reflection of growing public awareness of how brilliantly our students are performing in academics, extra-curriculars, sports as well as university placements. For your information, we have signed teacher/student development partnerships with the Pennsylvania State and Stanford universities, and the Silicon Valley-based Edfinity Inc to offer online lectures and interactive lessons from the most highly respected academics in the US," says Periwal, who has also promoted a CBSE school and four preschools with an aggregate enrolment of 8,145 students in the pink city.
Similarly, Dr. S. Bhavanishankar, senior principal of Lalaji Memorial Omega International School, Chennai (LMOIS, estb.2005) is "delighted" that this year's 3,155 sample respondents in peninsular India have promoted this new millennium day-cum-boarding school to the Top 10 table and ranked it #1 in Tamil Nadu (pop. 67 million).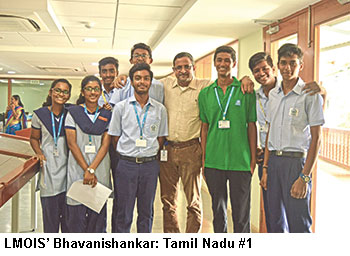 "We are overjoyed with our Top 10 rank and are ready to shoulder the responsibility that comes with this accolade. The distinguishing feature of LMOIS is our value-based spiritual education and life skills development programmes designed by our founder Parthasarathi Rajagopalachari, renowned for conceptualising the Sahaj Marg system of meditation. These two programmes equip our students with sound moral values and ethical skills to meet the challenges of an increasingly complex and stress-filled world beyond school gates," says Bhavanishankar, an alum of Madras University and the Medical University of South Carolina, USA, and former principal of the well-reputed Chettinad Vidyashram, Chennai, prior to signing up with LMOIS in 2008. Currently, LMOIS has an enrolment of 4,946 students and 320 teachers on its muster rolls.
Beyond the Top 10 schools included in the 31-strong league table of sufficiently well-reputed international day-cum-boarding schools as well, there's been considerable churn. Among schools which have risen in public opinion this year are Candor International School, Bangalore, ranked #12 (14), Vidsan Charterhouse, Faridabad (formerly Vidya Sanskar International School) #15 (17), DRS International School, Hyderabad #15 (21), Oakridge International School, Visakhapatnam #19 (22) and Dawn International, Kochi #20 (23).