Within the broad category of international schools, the most rapid growth has been of co-ed day schools which provide the benefits of international certification at relatively affordable prices compared to international day-cum-boarding and wholly residential schools.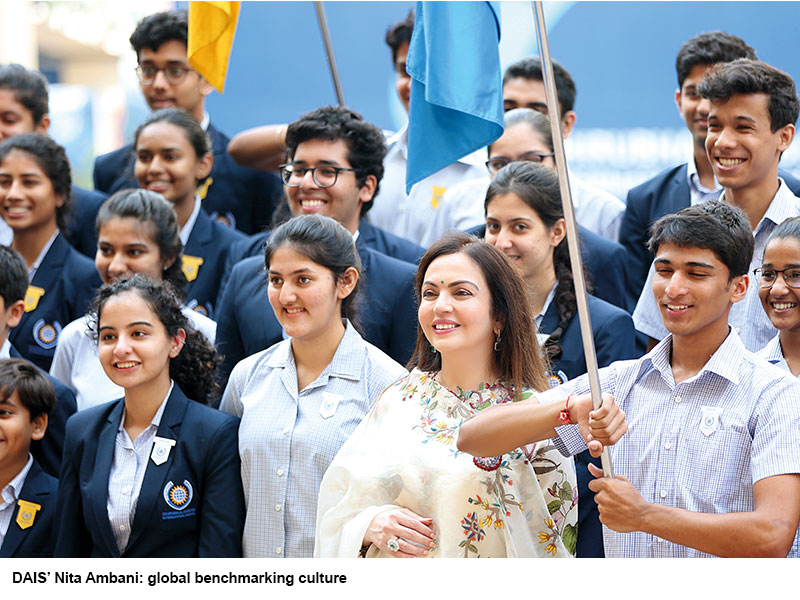 With the demand for new genre international schools providing readily accepted school-leaving certification which smoothes students' entry into the world's best colleges and universities rising exponentially in post-liberalisation India, several high-end international schools affiliated with offshore examination boards such as CAIE (Cambridge Assessment International Education), UK and IB (International Baccalaureate), Geneva have mushroomed in India's metros and larger cities where the upper middle and elite classes are rapidly expanding. Providing contemporary pedagogies, high-quality Indian and expatriate faculty, diverse students mix and a wide palette of co-curricular and sports activities, India's new genre international schools have captured the imagination of the rising affluent class.
Within the broad category of international schools, the fastest growth has been of international co-ed day schools. International day schools provide parents the benefits of international certification at relatively affordable prices compared to international day-cum-boarding and wholly residential schools. Therefore, it's not surprising that the longest league table in the international schools category is of day schools. It has grown from 28 schools in 2013 to 89 this year, indicating escalating parental demand for internationally comparable K-12 education.
Unsurprisingly, since international day schools were sub-divided into three categories — day, day-cum-boarding and wholly residential in 2013 — the Dhirubhai Ambani International School, Mumbai (DAIS, estb.2003) has been consistently ranked the country's #1 international day school. DAIS was founded 16 years ago by Nita M. Ambani, director of Reliance Industries Ltd (RIL), India's largest private sector company (annual revenue: Rs.623,000 crore) and ranked among the world's Top 10 petroleum companies.
Consequently, the global benchmarking organisation culture of RIL has been grafted onto DAIS ab initio. This is evidenced by DAIS being awarded the top rank for the past six years. This year too, the EW sample respondents have ranked this Cambridge International and IB-affiliated school India's #1 by a wide margin. In EWISR 2019-20, DAIS is accorded highest score across all categories of international schools (including day-cum-boarding and residential) on four critical parameters of school education excellence — academic reputation, faculty competence, sports education and leadership/management quality.
"We are happy and honoured that DAIS is ranked India's #1 international day school for the seventh consecutive year. This recognition is indicative of widespread public awareness of our providing children rigorous academic education in a supportive and learner-friendly environment as evidenced by our top-ranking on four critical parameters across all categories of international schools. Our students continue to amaze us with their outstanding academic and sports accomplishments — this year they won 510 awards in various sporting events. Our faculty is also constantly improving and willingly welcomes our continuous professional development programmes, and the management is fully committed to institutionalising the world's best education practices and administrative systems," says Nita M. Ambani, founder-chairperson of DAIS.
With the pressure for admission into DAIS intensifying continuously, the management is constructing a second adjacent campus. "The new campus will incorporate latest digital teaching-learning technologies with maker spaces and world-class facilities for sports, music, drama and co-curricular activities. Simultaneously, we have planned a major modification of the existing DAIS campus. My daughter Isha is leading this futuristic development project," adds Ambani.
At the high-end of the Top 10 table of international day schools are three Mumbai schools — Oberoi International, which retains its last year's ranking but shares it with the Ecole Mondiale World School (ranked #3 in 2018-19) and Aditya Birla World Academy at #3 (5).
Indeed the highlight of the Top 10 league table of international day schools is the domination of institutions based in Mumbai — India's commercial capital and 12th wealthiest city worldwide ($950 billion, according to a report of New World Wealth, New York). Nine Mumbai international schools are ranked in the Top 10 league table. Among them: Ascend International #7 (#26 in 2018) co-ranked with Jamnabai Narsee International (7), Podar International, Santacruz #8 (6), Utpal Shanghvi Global School #9 (8) and NES International #9 (7).
Beyond Mumbai, schools ranked within the Top 10 are Riverside, Ahmedabad at #4 (4), Pathways, Gurgaon #5 (6), K. C. High, Chennai 5 (8), Mahindra International School, Pune (formerly Mercedes Benz International) co-ranked #6 (6) with CHIREC International, Hyderabad (4), Pathways School, Noida #7 (9), Oakridge International, Hyderabad #8 (5), Legacy School, Bangalore #10 (14) and Sadhbhavana World School, Kozikhode, also ranked #10 (10).
Capt. Rohit Sen Bajaj, director of Pathways School, Gurgaon (estb.2010) admitted into the Top 5 this year, is elated about the promotion given to this K-12 IB (Geneva)-affiliated school in EWISR 2019-20.
"We are delighted that Pathways has been restored to its rightful position among the Top 5. We have a team of experienced and committed educators whose continuous professional development is a top priority. I'm confident we will continue to improve our ranking year after year as we are constantly striving to raise the bar, and expect to be awarded accreditation from the Council of International Schools and the New England Association of Schools and Colleges, shortly," says Bajaj, an alumnus of St. Stephen's College, Delhi with teaching and admin experience in several top-ranked schools including The Doon School, Dehradun, Lawrence, Sanawar and Oakridge, Hyderabad.
Yet the most spectacular leap forward in t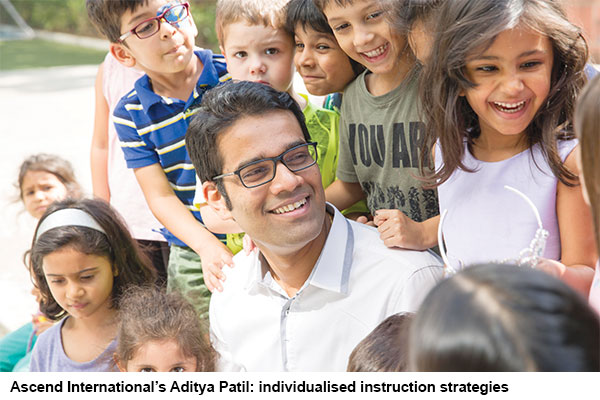 he EWISR 2019-20 international day schools category is of the Ascend International School, Mumbai (AIS, estb.2012) which has leapfrogged from #26 in 2018-19 to #7 this year.
Conceptualised and promoted by Bhagat Patil and Aditya Patil of the Kasegaon Education Society (regst.1945) which manages 46 education institutions across Maharashtra, the IB-affiliated AIS sited in Mumbai's newly-developed Bandra-Kurla business district, has won golden opinions for its ground-breaking experiential and individualised instruction pedagogies. This year AIS is awarded the highest score under the parameter of individual attention to students across all categories of international schools countrywide.
"We are cheered by our huge promotion in EWISR 2019-20 and especially thrilled with our #1 ranking under the parameter of individual attention to students, because individualised instruction is at the core of our education philosophy. Our teachers don't create perfect curriculums and lessons; they focus on devising individualised instructional strategies based on the needs of each child. I believe rising public awareness of our focus on developing the critical thinking, communication and life skills of our students and expanding our rich specialist programmes, has given our ranking a big boost," says Aditya Patil, an alumnus of Mumbai University and NMIMS, Mumbai and founder-chief executive of AIS, which has 350 students mentored by 70 teachers on its muster rolls.
Further down the international day school league table Choithram International, Indore, ranked #14 (19 in 2018), Mahatma Gandhi International, Ahmedabad, #21 (31) and Ardee School, Gurgaon #24 (35) have risen in public esteem. Moreover, several previously unranked schools have debuted in the 89-strong EW International Day Schools Rankings 2019-20. Among them: Rockwoods International, Udaipur #40, Redbridge International, Bangalore #45, CP Goenka International School, Oshiwara, Mumbai #47 and Chettinad Sarvalokaa Education International School, Kelambakkam #49.
However, it's pertinent to reiterate that as with day schools of all types, national rankings are of peripheral importance. For day schools, city and perhaps state rankings are of greater importance. Some nationally modestly ranked international day schools top-ranked in their host cities are Calcutta International School, ranked #17 all-India but #1 in Kolkata, Eastern Public School, ranked #44 nationally but #1 in Bhopal, and Rungta International School, ranked #43 nationally is #1 in Raipur.