Favourite Stories of Courageous Girls
by Louisa May Alcott, L. Frank Baum, Hans Christian Andersen, E. Nesbit, Charlotte Brontë, Emily Brontë, Enid Blyton, Lewis Carroll
Publisher: Hachette India
Price: Rs. 319
Remember Jo March of Little Women who sells her hair to raise money for her family? Or perhaps, George of the Famous Five, who fought to protect her island? What about Bobbie's quick-thinking action that prevents a train crash in The Railway Children? What's common with all these teen heroines is that they demonstrated courage beyond their years.
This anthology featuring selected chapters from books written by the some of the world's most popular novelists and children's writers celebrates the valour and courage of girl children. All the 24 chapters have an introduction about the 'courageous' girl featured and an extract from the original book. Evidently the objective is to inspire young readers to emulate the fictional heroines who confronted their fears and overcame often formidable obstacles. Moreover this book is a great way to introduce children to classics of English literature.
The extracts are from classics including Little Women, Anne of Green Gables, Five on a Treasure Island, The Railway Children, Jane Eyre, A Little Princess, Pollyanna and The Wizard of Oz, as well as much-loved fairy tales such as The Snow Queen, Kate Crackernuts and White Chrysanthemum from diverse cultures.
31 Fantastic Adventures in Science: Women Scientists in India
by Aashima Freidog and Nandita Jayaraj
Publisher: Penguin India
Price: Rs. 399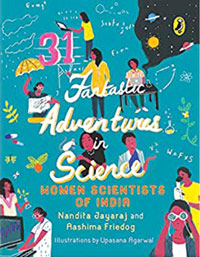 Freelance science writers, Aashima Freidog and Nandita Jayaraj, are co-founders of The Life of Science (TLoS), an online science platform, which chronicles women scientists employed in laboratories and research institutions across India. In this unique book, they have chronicled the lives of 31 trailblazing women scientists working in fields ranging from environmental biotechnology, particle physics, and palaeobiology to astrophysics. Inspirational life histories apart, the book features colourful illustrations of the profiled women.
Among those chronicled are biotechnologist Kiran Mazumdar Shaw, cancer biologist Bushra Ateeq, and clinical scientist Gagandeep Kang.
Targeted at children of ages ten and above, the authors hope the book will ignite love of science within children.
Marvel Superheroes
Publisher: Titan Books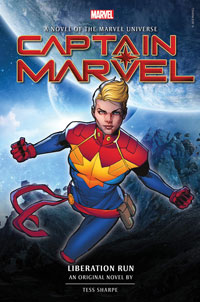 A generation of young children have watched Marvel Superhero movies, read the comics. Now it's time to read Marvel books. Print narratives of the superheroes have arrived in bookstores countrywide.
Beautifully produced, the titles released are Avengers — Everybody Wants to Rule The World, Ant-Man — Natural Enemy, X-Men: The Dark Phoenix Saga, Captain Marvel: Liberation Run, Black Panther and Thanos — Death Sentence. In Captain Marvel: Liberation Run, the authors have produced entirely new stories set within the comic book genre. In others, as with X-Men: The Dark Phoenix Saga, they've adapted storylines.
Marvel Comics, which published its first edition on August 31, 1939, is celebrating its 80th anniversary this year.
Mini P.