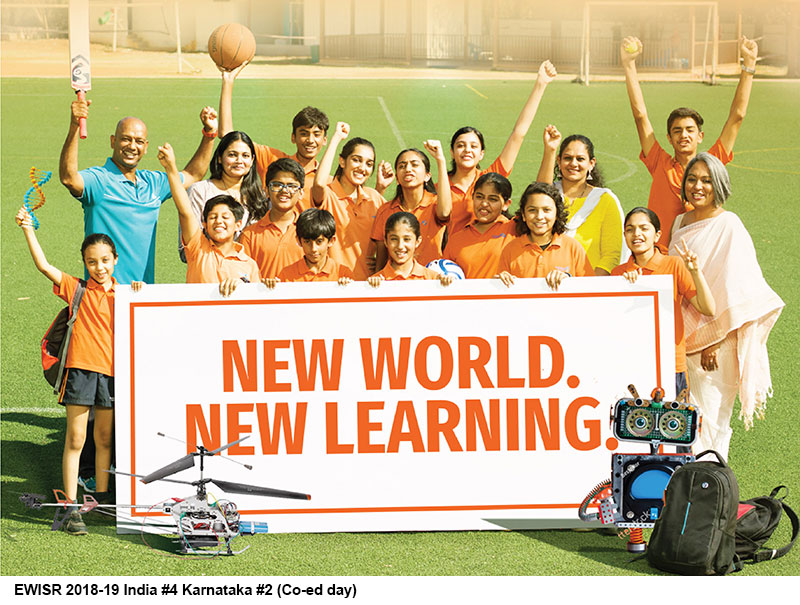 "Inventure Academy is committed to instilling in students the ability and conviction to realise their full potential and excel anywhere in the world. We believe in empowering students to make independent choices and achieve their goals while contributing to building a better world." – Nooraine Fazal, Founding CEO and Managing Trustee
Co-promoted in 2005 by Nooraine Fazal, a former London, Sydney, Hong Kong and New York-based corporate executive who returned to India in 2003 to be a "citizen with a say", and Irfan Razack, CMD of the NSE-listed Prestige Group, Inventure Academy is ranked among India's Top 5 co-ed day schools and #2 in Karnataka in the EducationWorld India School Rankings 2018-19.
This CISCE and Cambridge Assessment International Education (CAIE), UK-affiliated school provides child-centred curricula and pedagogies inspired by the Multiple Intelligences (MI) theory of world-renowned Harvard University professor Dr. Howard Gardner, to its 1,230 students mentored by 200 well-trained teachers. Spread across 37 acres in the IT hub of Bangalore, this MI-focused school offers a built-up area of 300,000 sq.ft equipped with globally comparable academic, co-curricular and sports facilities.
Team members and their development is a key focus area at Inventure Academy. On average, each member of Team Inventure undergoes 17 dedicated days of personal and professional development a year. The training is aimed at creating lifelong learners who model positive behaviour and create happy conducive learning environments.
Unsurprisingly, Inventure Academy students routinely excel in the CISCE, Cambridge International and other international exams. They have had 34 world and India toppers in the last six years across a range of subjects, and ranked in the top ten schools in India across every subject in ASSET. Moreover, 79 Inventurers represented clubs/state/country across a range of sports, including Saloni Dalal who broke two national records in the 50m and 100m breaststroke events (swimming). Inventure school teams were also champions at several inter school tournaments, including the national level Parikrma Champions League Football tournament. The Inventure Model United Nations (MUN) Team were awarded the 'Best Delegation' at WEMUN China, sweeping 10 of the 12 awards in contention.
Inventure Academy continues to push the boundaries of innovative education and is leading the way with programs and methodologies that other schools would like to implement, including their Theme Program, Maker Space, Youth Parliament, city-wide Changemaker Challenge, and annual musical productions.
While the school's CISCE and Cambridge school-leavers include world and all-India toppers, the school accords equal importance to life skills education, developing eco-sensitivity, and development of students' musical, spatial, spiritual, and kinesthetic intelligences. Some of the facilities include studios for art, dance and music, edible garden, yoga spaces, Maker Space and Design & Tech studio.
Inventure Academy alumni are readily admitted into top-ranked varsities abroad including Cambridge, London School of Economics (UK), Goldsmith, University of Arts London, Edinburgh and Nottingham (UK) and Carnegie Mellon, UC Berkeley, UPenn, UCal, Stanford, Harvey Mudd, Georgia Tech and Rhode Island School of Design universities (USA), and in India, the National Law schools, Ashoka and Manipal universities.

Further information visit www.inventureacademy.com
Also read: 50 Leaders who can revive Indian Education – Nooraine Fazal