"Intelligence plus character is the goal of true education. Our objective is to ensure that our students understand and act upon the premise that the world needs not only well-educated people but people who are morally upright and virtuous." – Tina Olyai, Founder-director
Founded in 1990 by educationists Tina and Sunil Olyai to fill the lacuna of a high-quality, modern, student-centred co-educational school, Little Angels High School (LAHS) is an epitome of quality K-12 education in Gwalior (pop. 1.1 million). The school has carved a niche for itself by setting excellent benchmarks in education practices and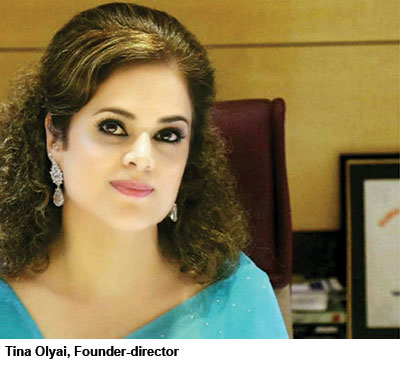 mentorship by providing rigorous academic, co curricular, sports and life skills education with special emphasis on environment education to its 2,500 students mentored by 120 well-qualified teachers. In the latest EducationWorld India School Rankings (EWISR) 2018-19, this CBSE-affiliated K-12 school is ranked #1 in Gwalior and #7 in Madhya Pradesh in the co-ed day schools category. Moreover it's ranked among the Top 5 schools of Madhya Pradesh on the important parameter of faculty competence, given double weightage in the annual EWISR.
A 20-minute drive from downtown Gwalior, the five-acre LAHS campus hosts contemporary academic buildings interspersed with award-winning gardens and carefully manicured lawns. Academic facilities include 70 well-ventilated ICT-enabled classrooms, seven hi-tech science and computer labs, a library housing 10,000 print volumes, a modern dance studio, music room, art lab and a 500 seats air-conditioned auditorium. Committed to nurturing students' academic, spiritual, emotional, moral, social and physical development, LAHS has recorded outstanding CBSE board exam results year-on-year. In 2019, of the 168 students who wrote the class X CBSE exam, 64 averaged 90 percent-plus. In the 2019 class XII exam, LAHS topper Palak Choudhary scored 96.2 percent.
Unsurprisingly, LAHS graduates are readily accepted into the world's most respected higher education institutions including Oxford (UK), Wharton, Princeton, New York University (USA), the IITs, AIIMS, BITS-Pilani, and Delhi University among others, in India. Prominent alumni include Chitransh Sahai, whose start-up GoComet was ranked among the Top 10 Start- ups in India by Wharton India Economic Forum; Lavleen Raizada, nationally certified tennis umpire, TV actress and model; Tanya Mittal, recently crowned Ms. Asia Tourism Universe and Niranjan Bharadwaj, author, environmentalist and international blogger.
Further information: www.lahs.org / [email protected]