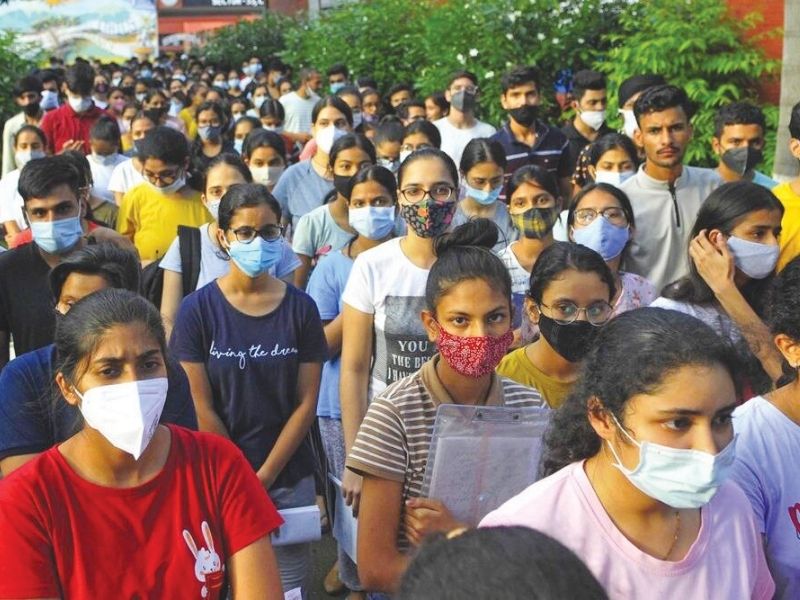 Dipta Joshi (Mumbai)
On December 16, the pune police investigating allegations of malpractice in the recruitment exam of the Maharashtra Housing and Area Development Authority (MHADA) held between December 12-20, stumbled upon large scale tampering in the state's annual teacher recruitment exam.
Investigations into the state's teacher eligibility test (TET) — a compulsory qualification for college/university graduates to teach in the state's 64,123 government-run and 7,303 private aided elementary schools (classes I-VIII) – indicated that the answer papers of 550 failed candidates were rigged in TET exams held in 2018 and 2020. A network of corrupt government officials, coaching classes, agents, technical consultants and software companies has also cast a shadow over the recently held (November 21) TET 2021 exam written by 1 million aspirants. Several teachers' unions and TET exam takers are now demanding the latest exam be scrapped and held afresh.
A cache of TET admit cards and hall tickets of ineligible students were discovered at the residence of Dr. Pritish Deshmukh, director of the Punebased G.A. Software Pvt. Ltd while police were investigating the MHADA scam. This led the police to question Tukaram Supe, commissioner of the Maharashtra State Council of Examinations (MSCE), a Pune-based government body that conducts scholastic aptitude exams including TET. On December 17, Supe was arrested for alleged malpractices in TET 2020. More arrests followed as investigations revealed similar malpractices in TET 2018.
Introduced in the state in 2013, the annual TET comprises two papers with candidates required to score a minimum 60 percent to become eligible for employment in the state's 71,426 government and government aided primary and secondary schools. With Maharashtra spending 82 percent of its annual K-12 education budget (Rs.60,237 crore in 2020-21) on teachers' salaries, dearness allowance and transfer allowances etc, jobs in government and aided schools are much prized. Primary teachers in government schools start at Rs.40,000 per month with experienced teachers taking home Rs.70,000 plus.
Private school teachers' remuneration is relatively modest. In the country's ubiquitous budget private schools (BPS), wage packages of university graduates range between Rs.8,000-20,000 per month. Hence the rising number of aspirants signing up for TET every year. However, given the pathetic condition of undergrad education, only a tiny fraction of those who write the exam pass it. In 2018, of the 173,449 aspiring teachers who wrote TET, a mere 1,679 cleared it. TET 2021 was written by 3.43 lakh candidates but only 16,592 passed. Unsurprisingly, the high failure rates in the annual TET has become the happy hunting ground of corrupt officials and anti-socials. Supe and his associates allegedly charged Rs.50,000-100,000 to candidates to rig their answer papers. Police allege this malfeasant gang harvested Rs.4.2 crore from TET 2020 and Rs.5 crore from TET 2018 candidates. Unaccounted cash and gold ornaments valued at Rs.4 crore were discovered in houses of the accused.
Following public outcry and opposition BJP MLAs alleging the accused have the patronage of leading lights of the ruling state's Maharashtra Vikas Aghadi (MVA) coalition government, the state government has constituted a six-member committee of bureaucrats to inquire into TET irregularities. The committee chaired by Vandana Krishna, additional chief secretary in the education ministry, has been directed to submit its report this month (January). However, several teachers' unions want the committee to be scrapped and an independent judicial investigation.
"We believe it is only a matter of time before TET malpractices become Maharashtra's Vyapam scam (the 2013 Madhya Pradesh Professional Examination Board's recruitment scam in which 7.7 million job applicants reportedly paid between Rs.10-50 lakh in bribes for various government jobs in that state). Maharashtra's education officials are notorious for petty corruption — demanding pay-offs for sanctioning teacher transfers, releasing teachers' salaries, stamping medical reimbursement bills and even clearing pension and provident fund files. Yet, the government has appointed six bureaucrats of the education ministry to investigate the TET scandals. The recent TET scams are the tip of the iceberg. An independent judicial inquiry is necessary to get to the bottom of these ongoing scandals. The usual transfer or suspension is not sufficient response," says Rajesh Pandya, vice-president of the Mumbai-based Teachers Democratic Front (TDF, estb.2004).
Meanwhile, according to ASER 2019 'Early Years' Report, published annually by the Pratham education foundation, 31 percent of class III children in Maharashtra's rural government primaries cannot read a class I textbook. In 2018, 23.3 percent couldn't. This means that children's learning outcomes in India's most industrial state accounting for 25 percent of national manufacturing output, are going from bad to worse. Hardly surprising if thousands of teachers recruited annually are underqualified frauds.
Also Read: West Bengal: Exaggerated caution