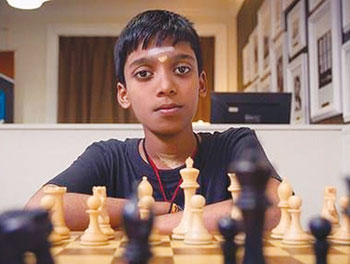 In June R. Praggnanandhaa (RP), a class VIII student of the Velammal Matriculation Higher Secondary School, Chennai, took the chess world by storm when he outsmarted Italian Grandmaster (GM) Luca Moroni Jr.in round eight of the Gredine Open staged in Ortisei (Italy), to be crowned the world's second youngest (12 years ten months) and India's youngest GM — a title conferred by FIDE, the World Chess Federation. Ukraine's Sergey Karjakin aged 12 years seven months is the world's youngest GM.
The younger of two children of A. Rameshbabu, a manager at the Tamil Nadu Co-operative Bank and homemaker Nagalakshmi, RP started playing this complex mind game at age three inspired by his elder sister R. Vaishali, also a GM. At four, he began training under S. Thyagarajan at the city's Bloom Chess Academy. By the time he was five, he began competing and winning district and state-level championships and when he turned six (2012), he won a gold medal in the under-7 national championship staged in Pondicherry.
Since then, there was no stopping this young chess prodigy who has won several national and international titles. Among them: a gold medal at the under-8 Asian Youth Chess Championship (2012) in Hikkaduwa, Sri Lanka; the under-8 and under-10 World Youth Chess Championships, Dubai (2013) and Greece (2015). Two years ago, he was conferred the title of International Master at the 9th KIIT International Chess Festival (2016) held in Bhubaneswar. Currently, this pre-teen whiz's mantelpiece is crowded with 10 gold, four silver, one bronze medal and several cash award certificates.
Unsurprisingly, the past three years have been very hectic for this youngster who has had to balance national and international travel with school exams. But he believes that the mental discipline demanded by the rules of the game enables academic achievement. "Managing school work is relatively easy. My priority is to work, train and ideate about becoming world champion," he says with quiet determination.
Power to your elbow!
Hemalatha Raghupathi (Chennai)