Dr Hanif Kanjer, Founder-Director, Rustomjee Cambridge International School; Founder-Dean, Rustomjee Business School; Director, Rustomjee International School
In March 2023, Rustomjee Cambridge witnessed a moment of immense pride as Nelson Mehta, one of its brightest students, achieved a remarkable feat. Nelson's outstanding performance at the A-Level exam earned him the prestigious opportunity to pursue his dreams at Dartmouth College, an Ivy League institution in the USA. As Nelson accepts a full-tuition scholarship for the 5-year undergraduate engineering programme with modified economics, he not only secures a promising future for himself but also brings immense joy to his parents by saving them a whopping Rs 2.5 crores in tuition fees.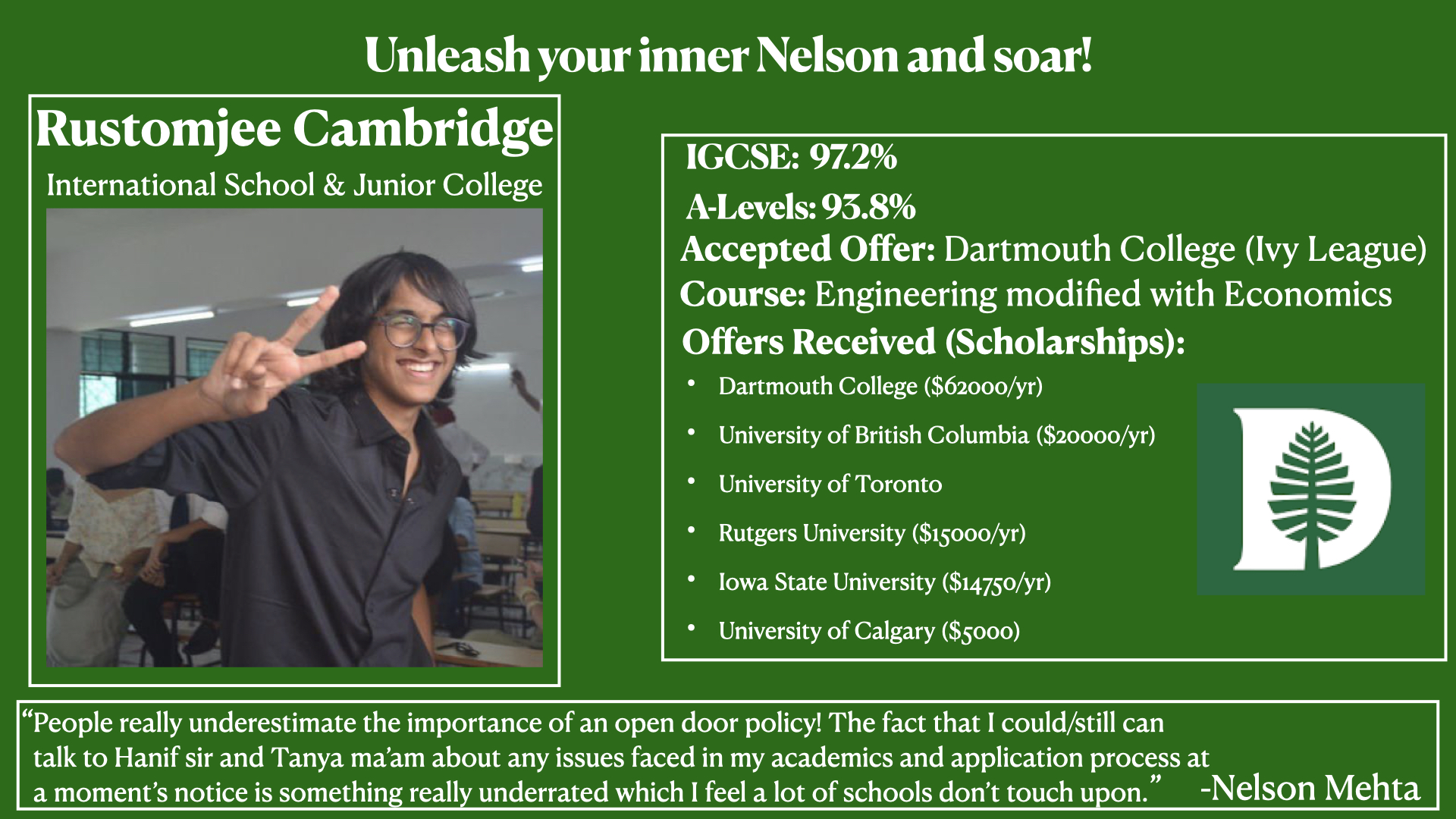 Dartmouth College, with its rich academic history and commitment to excellence, has always been a dream for many ambitious students around the world. Nelson's acceptance into this renowned institution is a testament to his dedication, hard work, and exceptional intellect. As an alumnus of Dartmouth myself, I am filled with immense pride to witness Nelson becoming the first student from Rustomjee Cambridge to be part of this prestigious Ivy League.
Throughout his journey at Rustomjee Cambridge, Nelson has demonstrated not only remarkable academic prowess but also remarkable leadership and compassion for his peers. He has been actively involved in mentoring his juniors in the A-Level programme, showcasing his commitment to help others succeed. His outstanding character and dedication to empowering his fellow students have left an indelible mark on the school community, making him a true role model for all.
As Nelson embarks on his exciting chapter at Dartmouth, we are certain that his time at the institution will be transformative. Dartmouth's rigorous academic environment, coupled with its nurturing and inclusive atmosphere, will undoubtedly shape Nelson into an accomplished professional ready to make a positive impact on the world.
It is essential to acknowledge the significant role played by Himanshu Dev, who guided Nelson throughout this journey, helping him channel his potential and excel in his studies. The collective efforts of the entire Rustomjee Cambridge community have played a pivotal role in Nelson's success, highlighting the importance of collaboration and support in nurturing young minds to reach their full potential.
As the news of Nelson's achievement spreads through the school and beyond, it serves as an inspiration to every student at Rustomjee Cambridge. Nelson's journey reminds us all that hard work, perseverance, and a commitment to helping others can lead to incredible opportunities and achievements.
To Nelson, we say, keep soaring high, for the sky is the limit. Your success not only fills our hearts with pride but also motivates us to continue providing a nurturing and empowering environment for all our students. As you venture into this new phase of your academic career, know that the entire Rustomjee Cambridge community stands behind you, cheering you on every step of the way.
To all our students, let Nelson's story be a reminder that dreams do come true with dedication and determination. As we celebrate Nelson's accomplishments, we look forward to witnessing the next generation of Rustomjee Cambridge students rise and shine on the global stage.
Congratulations, Nelson Mehta, on this incredible achievement! Your journey has just begun, and we cannot wait to see all the great heights you'll reach in the years to come. Soar high, soar far, and continue to make us proud!