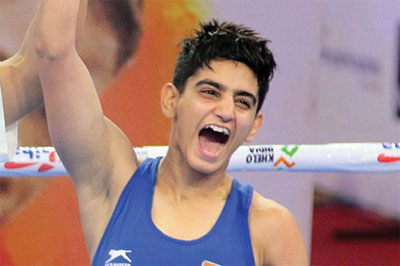 Four times national champion, Rohtak (Haryana)-based Sonia Chahal (21) returned home to a hero's welcome last November after winning a silver medal in her debut performance at the Women's World Boxing Championship organised by the Amateur International Boxing Association in New Delhi.
The younger of two children of Jai Bhagwan, a farmer, and homemaker mother Neelam, featherweight (57 kg) Sonia Chahal is disappointed she didn't bag the gold. "Although it was a proud moment for me to share the stage with my idol Mary Kom who won her sixth gold medal in the light flyweight 45-48 kg category, I was disappointed with my performance. But I'm now confident that I will improve next time," says Sonia, a third-year arts student of Maharishi Dayanand University, Rohtak.
Inspired by the success of women pugilists from her village (Nimri) including (unrelated) Kavita Chahal, and encouraged by her physical education teacher Suresh, Sonia Chahal started sparring when she was in class IX. In 2011 her parents enroled her in the Bhiwani Boxing Club, where she learned ring craft under the tutelage of Dronacharya awardee Jagdish Singh.
In quick time, Sonia started winning inter-school boxing championships followed by district, state and national-level tournaments organised by the Boxing Federation of India. In 2012, she was crowned national champion and retained her title in 2013, '14 and '16. Moving to Rohtak's National Boxing Academy in 2017, she bagged a silver in the India Open tournament the same year and a bronze in Turkey last year.
Thus far in her eight-year career as a boxer, Sonia Chahal has won four gold, three silver and four bronze medals in national and international tournaments. But her success has been built on a hard training regimen. She is in the National Boxing Academy at the crack of dawn to train for 150 minutes in the morning and evenings, a regimen supplemented with weights training and running sprints.
"My dream is to win a medal at the 2020 Tokyo Olympics. Now I am preparing for the forthcoming Asian Championships in Bangkok and the World Championships in Russia later this year. I am training hard," she says.
Power to your punches!
Gauri Kohli (Delhi)