"We are committed to providing our students an enabling and contemporary learning environment to facilitate their holistic personality development through academic, co-curricular, sports, values and spiritual education based on the principles of The Mother and Sri Aurobindo." – Ranjan Mitter, Principal
Inspired by the philosophy and teachings of Sri Aurobindo (1872-1950) and the Mother (1878-1973), The Future Foundation School, Kolkata (TFFS, established in 1981) provides its 1100+ students of Classes I to XII a future focussed and culturally rooted education. An affiliated institution of the Delhi-based Council for the Indian School Certificate Examination (CISCE), the school prepares students for Class X ICSE and Class XII ISC board examinations. The school is also accredited to the National Accreditation Board for Education and Training (NABET) as a School of Excellence. It is the first school in India and one of the first few in Asia to receive the coveted LabelFrancÉducation accreditation, in recognition of its system of bilingual teaching. Collaboration with Lycée français de Pondichéry, the oldest French school in Asia, enables students to acquire IB certification.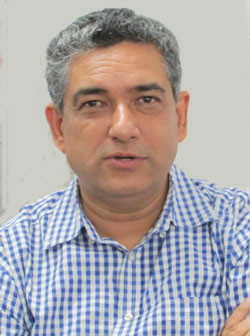 Guided by Shri P.K. Bhattacharya (1905-1984) an iconic engineer and trustee of Sri Aurobindo Ashram, Pondicherry, Smt. Joya Mitter (1936-1999), founded the school in 1981 and modelled it in the style of the Gurukul of ancient times. After her demise, Sri Ranjan Mitter took charge as principal and over the past two decades has transformed the school into a contemporary, future-ready institution.
The objective of TFFS is to provide students an environment that facilitates holistic personality development where students are provided with well-designed academic, co-scholastic, sports and value education modules that build the essential skills and abilities for 21st century learners. In the latest EducationWorld India School Rankings 2018-19, TFFS is ranked among India's Top 30 co-ed day schools and #2 in West Bengal and Kolkata.
The distinguishing feature of the school is its experiential and beyond-the-classroom learning programmes. Approach to education is bound by no conventions. Stress on personal and social development, study and work habits, life skills, career choices and value education forms an integral part of the regular teaching-learning transaction. The school's management believes that co-scholastic activities and physical education are no less important than academic pursuits. Students can choose from 33 co-scholastic activities that aim to nurture children's psychomotor, affective and kinesthetic capabilities.
TFFS' well-balanced pedagogy that encourages experiential learning is yielding excellent results. In 2019, 43 of the school's 74 students who wrote CISCE's Class X ICSE board exams scored 90 percent-plus, while 49 of the 113 students who wrote the Class XII ISC exam averaged more than 90 percent. Toppers Kritika Bhattacharya averaged 98.8 percent in ICSE while Debadrita Roy scored 99 percent in ISC.

For further information: www.sriaurobindoinstitute.org