A multi-disciplinary varsity with 15,000 students including 2,550 from 100 countries worldwide, UoW is ranked among Canada's Top 25 universities by the London-based QS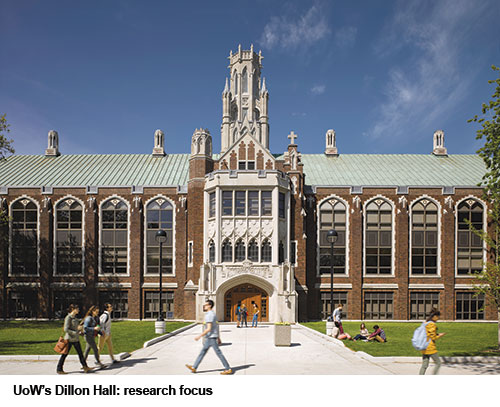 Sited on a 125-acre campus in the southern tip of Canada, University of Windsor (UoW, estb.1963) is a multi-disciplinary public varsity with an enrolment of 15,000 students, including 2,550 from 100 countries, mentored by 524 faculty. In the Times Higher Education World University Rankings, UoW is ranked in the 600-800 band worldwide, and #23 in Canada by the QS World University Rankings 2018. A research-focused university with an annual research outlay of $30 million (Rs.168 crore), UoW is accredited by the Ontario Universities Council on Quality Assurance, the Association to Advance Collegiate Schools of Business, and the Graduate Management Admission Council.
UoW traces its lineage to the Assumption College founded in 1857 as a liberal arts institute. More than a century later, in 1963, the Assumption College merged with the Essex, Canterbury, Iona and Holy Redeemer colleges to emerge as the University of Windsor, a non-denominational, autonomous degrees-awarding institution of higher education. Currently, the university's nine faculties — arts, humanities, and social sciences; law; education; nursing; engineering, human kinetics; social work; science and business — offer 190 undergraduate, 65 graduate and six professional programmes. Moreover, UoW has a 100,000-strong alumni network which includes former Chrysler CEO Thomas LaSorda, former Canadian ice hockey player Frank Mahovlich and Fiat CEO Sergio Marchionne.
Windsor. Located minutes from North America's busiest international border crossing, directly across a river from the US city of Detroit, Windsor (pop. 217,000) is Canada's southernmost city. Settled by the French in 1749, it has evolved into a multi-cultural metro with 27 percent of its population comprising foreign-born citizens.
Windsor is also the automobiles hub of Canada with a rich industrial and manufacturing heritage. It hosts the headquarters of Fiat-Chrysler Canada and a Ford Motor Co manufacturing plant. Surrounded by blue fresh water lakes, the city boasts over 3,000 acres of green spaces, 180 parks and 40 miles of bicycle trails, apart from art galleries, museums, and world class sports venues. It also has a bustling nightlife and offers an array of restaurants, pubs and concert halls. Detroit, Michigan, is a mere ten minutes by road.
The city has a semi-continental climate, with warm, humid summers and cold winters. Summer temperature averages 23°C plunging to -3°C in winter.
Campus facilities. The university's 125-acre campus overlooks Windsor's riverfront and the Detroit skyline. Ranked among the Top 5 greenest universities in Canada by the Princeton Review's Guide to 353 Green Colleges 2015, it offers state-of-the-art academic, residential and sports facilities. Campus landmarks include the Ed Lumley Centre for Engineering Innovation (estb.2012), a world-class facility with latest in-classroom teaching technology, an Industrial Courtyard for collaborative work with 80 research labs, and the Leddy Library, which hosts over 3 million learning resources including 1 million electronic titles and data sets.
Moreover, renovation of the heritage buildings was completed in 2015 and they currently host the Centre for Executive and Professional Education, School of Social Work in the former Windsor Star building and School of Creative Arts in the 100-year-old site of Windsor Armouries. Among facilities offered are learning studios and editing suites, workshops for metal and woodworking, digital fabrication labs and a printing studio.
The university's St. Denis Centre is the hub of sports activities and boasts indoor and outdoor tracks, a championship swimming pool, 2,000-seat indoor fieldhouse for basketball and volleyball, and a new 10,000-seat football and soccer stadium. The student fitness centre features 31 cardio and 24 weight training machines and offers personal training, Salsa cardio, deep water aqua-fitness, sculpting Pilates and Tai Chi classes.
Moreover, there are over 150 clubs and societies on campus hosting several social and cultural activities around the year.
Admission. The minimum eligibility criterion for admission into undergraduate programmes is successful completion of Plus Two with proof of English language proficiency — minimum IELTS score of 6.5, Pearson Test of English Academic (60) or TOEFL (220) scores. The admission application form and transcripts of secondary school exams need to be submitted to International Admissions, University of Windsor, 401 Sunset Ave, Windsor, ON, N9B 3P4, Canada.
Foreign students can apply directly (www.uwindsor.ca/apply) or through an authorised education consultant. The recommended application deadline dates are March 1 for September admissions (fall), September 1 for January (winter) and January 1 for term beginning May (spring).
For graduate admissions, requirements vary with programmes (see http://www.uwindsor.ca/graduate-studies/350/graduate-programs). For further information, Ph: 519-253-3000; email: [email protected]; website: www.unwindsor.ca.
Accommodation. On-campus housing options include four residence halls accommodating 900-plus students within air-conditioned, furnished single or double rooms with shared washrooms, kitchen, lounge, study rooms, and laundry facilities and mandatory meal plan options. The halls are located within walking distance from classrooms, recreational facilities, library, and the student centre.
Degree programmes. The University of Windsor offers 190 undergrad, 65 graduate and six professional programmes.
SCHOLASTIC OPTIONS AT WINDSOR
The University of Windsor's nine faculties offer a wide range of undergrad and postgrad programmes. They include:
Faculty of Arts, Humanities and Social Sciences. Inter-disciplinary studies, communication, media and film, creative arts, dramatic art, English language, literature and creative writing, history, philosophy, political science etc.
Law. Juris Doctor, Canadian and American law
Education. Consecutive B.Ed programme, M.Ed, International Baccalaureate etc
Nursing. Master of nursing, primary health care nurse practitioner etc
Engineering. Civil, electrical, environmental, industrial, mechanical, computer etc
Business. Business administration, business administration and computer science, business administration and economic etc
Graduate Studies. Economics, automotive engineering, chemistry, philosophy, computer science, history, social work, visual arts etc
Human Kinetics. Kinesiology, human kinetics with movement science major/ sports management major, certificate in sport media, communication and social issues etc
Science. Physics, mathematics, general science, chemistry, forensic science, science economics, environmental science, biological science etc
Tuition fees (per year): $21,500-24,500
Living expenses: $5,800
Miscellaneous: $4,900 NB: CAD=Rs.55