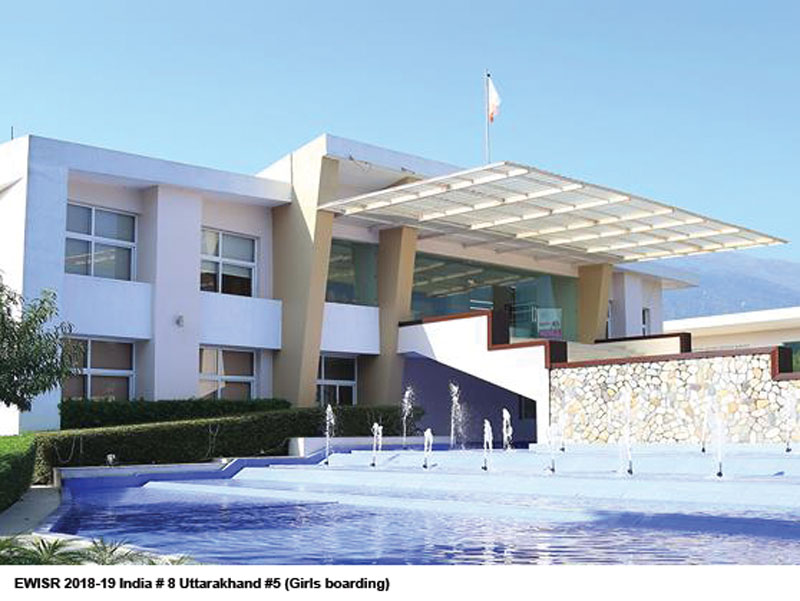 "We are committed to providing well-balanced education through varied learning experiences with special focus on developing 21st century skills. Our aim is to foster academic excellence by implementing best pedagogies, instilling scientific temper and developing appreciation of art, music and dance and encouraging sports education." – Monisha Datta, Director of Vantage Hall Girls Residential School Dehradun.
Set within an emerald green 12.5-acre campus on the outskirts of Dehradun, the admin capital of the hill state of Uttarakhand which hosts some of India's most famous boarding schools, Vantage Hall (estb.2014) has quickly acquired a national reputation for providing girl boarders learner-centric pedagogies, excellent pastoral care and superb academic, co-curricular and sports education facilities. In the latest EducationWorld India School Rankings 2018-19, Vantage Hall is ranked among the Top 10 all-girls boarding schools of India and #5 in Uttarakhand.
Affiliated with the Delhi-based Central Board of Secondary Education (CBSE), Vantage Hall Girls Residential School Dehradun residential class VII-XII school's 21st century campus is designed by Education Design Architects, the Indian affiliate of the US-based Fielding & Nair, the globally renowned education architectural firm. Set amid green woods offering a plethora of nature walks, ornithology, jogging and trekking opportunities, the school's academic infrastructure includes 18 Smart classrooms, three well- equipped science, maths and computer science labs with 30 computers and internet connectivity and a well-stocked library housing 1,600 titles and 16 journal subscriptions.
Vantage Hall's 'home away from home' pastoral care curriculum and residential facilities which comprise two spacious hostels equipped with an infirmary and dining facility, ensure that girl boarders receive excellent care and mentoring.
In the tradition of the world's best boarding schools, Vantage Hall accords high priority to sports education and has invested generously in enabling sports infrastructure. It includes a 25-metre swimming pool, two tennis courts, a 400-metre athletics track, nine-lane shooting range, a football ground, golf putting greens, indoor and outdoor basketball courts, two glass squash courts, three indoor badminton courts, a fully-equipped gym, a roller-skating rink, among other facilities. Vantage Hall girl students routinely represent Uttarakhand state in shooting, squash and athletics competitions at the national level.
Facilitated by an enabling teacher-pupil ratio of 1:10, the school's specially designed learner-centric curriculum enables excellent student learning outcomes. The school has achieved 100 percent pass results in the CBSE class X and XII board exams during the past three years. In the 2019 CBSE class XII board exam, Vantage girls averaged 75 percent, and 86.6 percent in the class X boards.

Further information: www.vantagehall.org
Also Read: https://www.educationworld.in/vantage-hall-girls-residential-school-dehradun/