With an estimated 32 percent of the country's students in higher education enrolled in government universities, the annual EW India Higher Education Rankings 2020-21 has introduced separate league tables rating the country's 150 most reputed government universities – Summiya Yasmeen
Although since the dawn of the new millennium when several state governments began liberally legislating promotion of private universities, the country's 513 publicly-funded government universities have lost their sheen, they still dominate India's higher education system. According to the Delhi-based University Grants Commission (UGC) data (2020), currently 409 state and 50 Central government, 127 deemed (government and private) and 349 private varsities are providing higher education countrywide.
Within the public higher education system, the 50 Central universities (budget: Rs.7,463.26 crore in 2020-21) and deemed universities are top of the tree followed by 409 state government varsities. Once reputed for their high academic quality and excellent faculty, the majority of India's 409 state universities are in a shambles ruined by meddling rustic politicians, over-the-top caste-based selection of faculty and students, and over-subsidisation
of tuition fees.
Yet, since an estimated 32 percent of the country's 37.4 million students in higher education are enrolled in government universities, this year the annual EducationWorld India Higher Education Rankings 2020-21, which
hitherto ranked private universities, has introduced separate league tables rating the country's 150 most reputed
government varsities under ten parameters of higher education excellence and ranks them inter se.
To conduct the EW India Government University Rankings 2020-21, over 150 field personnel of the highlyreputed
Delhi-based market research and opinion polls company, Centre for Forecasting & Research Pvt. Ltd (C fore), interviewed 4,168 sample respondents comprising 2,214 faculty and 1,126 final year students of 162 universities, and 828 industry representatives in 25 cities countrywide. They were persuaded to award public universities they are familiar with, scores of 1-300 on ten parameters of higher education excellence, viz, faculty competence, faculty welfare & development, research and innovation, curriculum and pedagogy, industry interface, placements, infrastructure, internationalism, leadership/governance and range and diversity of study programmes offered. Higher weightage is given to the critical parameters of faculty competence (150), research and innovation (300) and infrastructure (150).
"This year's rankings league table is based on a mix of factual objective criteria and perceptions of knowledgeable
sample respondents. Objective data has been culled from papers published by faculty in refereed journals and number of citations was obtained from secondary sources including the Scopus index. Twenty percent weightage
is given to publications and citations in refereed journals worldwide," says Premchand Palety, founder- CEO of C fore.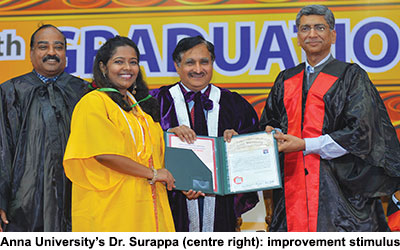 Unsurprisingly, the Indian Institute of Science, Bangalore (IISc, estb.1909) is ranked the country's #1 higher education institution in the EW Government University Rankings 2020-21, with top scores under seven of the ten parameters of higher education excellence including research and innovation, given highest weightage (300), in the survey. Promoted in 1909 through a generous land grant from pioneer industrialist J.N. Tata who founded the Mumbai-based Tata business empire, IISc with an enrolment of 4,200 students, including 2,750 doctoral students, mentored by 500 highly-qualified faculty, is widely acknowledged as the country's premier engineering and sciences postgrad institution. This centrally-funded deemed university has been allocated Rs.591.65 crore in the Union Budget 2020-21.
Though IISc has a well-deserved national, even international, reputation for academic and research excellence — it is one of three Indian higher ed institutions (apart from IITBombay and IIT-Delhi) to be ranked in the Top 200 league table of the QS World University Rankings 2020 — it is a chained handmaiden of the Union government.
Numerous emails requesting an interview with director Dr. Anurag Kumar were denied on the ground that the EW rankings survey is not authorised by government. "Though we are honoured to have been ranked #1 in your rankings, as a matter of policy, we officially participate only in government of India rankings or those designated by GoI," wrote Govindan Rangarajan, chair, division of interdisciplinary research at IISc, in an email message to your correspondent.
Evidently and perhaps understandably, the IISc management, which is entirely dependent on the Rs.591 crore annual government grant, is wary of rubbing the whimsical mandarins of the Union HRD ministry, which publishes its own annual Top 100 National Institutional Rankings Framework (NIRF, in which IISc is ranked #1), the wrong way. Particularly since EducationWorld has been critical of the NIRF evaluation methodology based entirely on data submitted by universities.
Although this data is reportedly audited by the HRD ministry, the NIRF league tables display patent absurdities. For instance, BITS-Pilani, routinely ranked India's #1 engineering college and #2 private university by EducationWorld, is #23 in NIRF 2019, way below obscure varsities such as Kerala, Panjab, and Andhra.
Following IISc in the 2020-21 league tables of government universities are the centrally-funded Tata Institute of Fundamental Research (TIFR), Mumbai, at #2, Jawaharlal Nehru University (JNU), Delhi #3 and University of Delhi #4. However, the Top 10 table also includes Anna University, Chennai, ranked #5, Panjab University, Chandigarh #6 and Jadavpur University, Kolkata #7 — all state government universities. Banaras Hindu University at #8, Institute of Chemical Technology, Mumbai #9 and Hyderabad and Mumbai universities complete the Top 10.
Dr. M.K. Surappa, vice chancellor of Anna University (AU, estb.1978), is elated about AU's #5 India and #1 in Tamil Nadu ranking. "Anna University is the top-ranked state university in the EW government universities league table. This is indeed a notable achievement. AU is the only higher ed institution in India to offer study programmes in almost all branches of engineering and technology apart from science and business management degree courses. However, I am disappointed with our scores under the parameters of curriculum and pedagogy, industry interface, and infrastructure. We will reflect and work on improving our scores under these parameters to get a higher ranking next year," vows Prof. Surappa, an alumnus of Mysore University and Indian Institute of Science, former dean of the engineering faculty at IISc, Bangalore and former director of IIT-Ropar (Punjab) who was appointed AU vice chancellor in 2018.
In this context it's also noteworthy that AU and Jadavpur University, ranked #7, are the only state government
universities conferred Institute of Eminence status by the Union HRD ministry. Despite being massively infiltrated
by members of CPM (Communist Party of India-Marxist) during 34 years (1977-2011) of uninterrupted rule over West Bengal by the CPM-led Left Front government, Jadavpur University, Kolkata (estb.1955), has managed to keep its head above water and retains its reputation as an island of higher education excellence in West Bengal which has yet to recover from the continuous flight of capital during communist rule.
"I am delighted to learn that Jadavpur University is ranked India's #7 public university and #1 in West Bengal. Our high scores on the parameters of research and innovation and range and diversity of programmes are particularly satisfying. Moreover, it's noteworthy that in JU we practice the principles of equity and inclusion which is not an assessment parameter in your survey, to ensure that our teaching-learning excellence is not monopolised by the privileged elite. We will carefully scrutinise the results of your survey and take necessary steps to boost our ranking next year," says Dr. Suranjan Das, an alum of Calcutta and Oxford universities and former vice chancellor of University of Calcutta who was appointed VC of Jadavpur U in 2015. Currently, this unitary university (unlike most state varsities JU doesn't affiliate colleges) has an enrolment of 11,000 students in 21 inter-disciplinary schools, 37
departments and 20 research centres staffed by 800 faculty.
Likewise, Dr. Suhas Pednekar, vice chancellor of the University of Mumbai (UoM), is pleased that UoM — one of the country's three oldest universities established in 1857 — is ranked among the Top 10 with highest scores under the parameters of range and diversity of programmes and internationalism.
"We are delighted to receive this news. UoM is the sole university countrywide to use digital marking for assessment
of over 500 exams. I am also very pleased that the survey respondents have given us high scores for range and diversity of programmes. The university's 56 departments provide 126 study and 176 diploma and certificate programmes. As for internationalism, we have signed collaboration agreements with 105 foreign higher ed institutions. Our institutional response to the Covid-19 crisis has also been swift. We have begun work to establish a multi-purpose lab for Covid-19 testing and an Inter-University Centre for Community Health and Public Policy," says Pednekar. An alum of UoM and Stevens Institute of Technology, New Jersey, USA, Prof. Pednekar served as principal of Ramnarain Ruia College, Mumbai prior to his appointment as VC of UoM in 2018.
Adds Deepakkumar J. Mukadam, member of the management council of UoM and former senate member of the university: "The Top 10 ranking of UoM is validation that a university can offer high-quality education and also practise social inclusion and equity. The university's sub-centres in Kalyan, Thane, Ratnagiri, and Sindhudurg are doing an incredible job of ensuring that district students get access to quality university education."
A peculiarity of government universities including Mumbai, Anna, Delhi (ranked #4), Calcutta (12) and Bangalore (20) is that most of them are affiliating varsities. Mumbai has a massive 820 affiliated colleges (with 800,000 students), Anna 552 (721,276), Calcutta 168 (360,000) and Bangalore 255 colleges (55,900). This affiliation system — unique to the subcontinent — is a hangover of the British Raj when undergrad colleges required monitoring and supervision by academically and administratively superior universities. In the UK although Oxford, Cambridge and London universities have several affiliated colleges, they are the exception, and the affiliating system, which strains university resources and necessitates the affiliating university to supervise, conduct exams and award degrees to students of affiliated colleges, has fallen into disuse.
The Kasturirangan Committee's (NEP) 2019 has recommended abolition of the affiliation system. The Draft NEP 2019 advocates the transformation of all undergraduate colleges into autonomous degree awarding institutions with universities morphing into multi-disciplinary teaching and/or research institutions. The committee has set a 2032 deadline after which "there will be no affiliating universities or affiliated colleges". NB: Abolition of the affiliation system has been a long-standing demand of EducationWorld.
The large number of vice chancellors and faculty who grumble about their national rankings would do well to study the EW state rankings league tables. It's noteworthy that universities modestly ranked nationally in the 159-strong EW India Government University Rankings 2020-21, are highly ranked in their host states, some of which it is pertinent to note, are as populous as European countries.
For instance, Sri Venkateswara University, Tirupati, ranked India #23 is #1 in Andhra Pradesh (pop. 49 million). Similarly, MS University, Baroda, ranked India #33 is #1 in Gujarat (65 million). Likewise, the low-profile National Dairy Research Institute, Karnal ranked #46 nationally, is the premier government university of Haryana (25 million) and the Cochin University of Science & Technology (CUSAT), ranked India #54, is Kerala's #1 government
varsity.
A highlight of the EW India Government University Rankings 2020-21 is that several specialised (cf. multi-disciplinary) universities are ranked within the Top 50. For instance, King George's Medical University, Lucknow is ranked India #24; Indian Agricultural Research Institute, Delhi is #32 jointly with the School of Planning & Architecture (Deemed University), Delhi, the Swarnim Gujarat Sports University, Gandhinagar #39 and National Brain Research Centre (NBRC) Deemed University, Manesar (Gurgaon) #48.
Dr. Arjunsinh C. Rana, vice chancellor of Swarnim Gujarat Sports University, Gandhinagar (SGSU), is grateful that the EW sample respondents have acknowledged the good work being done by the country's specialised government universities. "I am very thankful that the Education- World survey has recognised the quality work done by SGSU to nurture and train budding sports coaches and professionals. Established in 2011 by then Gujarat chief minister Narendra Modi, SGSU is one of the country's premier sports-focused universities providing bachelor's and Master's programmes in physical education, sports journalism and sports management. SGSU plays a major role in organising the annual Khel Mahakumbh — India's biggest sports fest — and competitions of several state/national sports federations. The Top 40 national and #4 Gujarat ranking of SGSU has boosted the morale of our students and faculty and strengthened our resolve to produce sports professionals with enhanced knowledge and skills to develop and shape Olympic winners," says Rana, an alumnus of Saurashtra University and Sports Authority of India, Delhi with wide experience of working with the Saurashtra Cricket Association and BCCI.
With Baishali Mukherjee (Kolkata) & Shivani Chaturvedi (Chennai)