Promoted in 1969 by Parmeshwari Devi Gordhandas Garodia in the then newly developing eastern Mumbai suburb of Ghatkopar with the objective of providing high-quality English medium schooling to the suburb's aspirational middle class, PG Garodia School is celebrating its 50th anniversary this year. Since it admitted its first batch of seven students in a modest building, the Council for the Indian School Certificate Examinations (CISCE)-affiliated co-ed day school has emerged as one of Mumbai's most admired K-10 institutions. In the EducationWorld India School Rankings 2017-18, PG Garodia School is ranked 9 in Mumbai and among the Top 100 co-ed day schools countrywide.
Following the huge success of its flagship institution, the Garodia Education Group promoted a preschool — Garodia's Academy – in 1999, which offers the playway curriculum to 550 children aged 2-5 years as well as teacher training programmes in early childhood care and education; the PG Garodia Conservatoire (estb. 2004), a music school that provides high-quality professional music training and education, and One World International Sports Centre (estb. 2010), a sports training institute which offers facilities for basketball, football, handball, athletics, yoga, gymnastics, table tennis and martial arts.
The latest venture of Garodia Education is the Garodia International Centre for Learning Mumbai (GICLM, estb. 2017). Affiliated with the International Baccalaureate (IB), Geneva and Cambridge Assessment International Education (CAIE), UK, the K-12 GICLM has quickly impacted and impressed the discerning parents' community of India's commercial capital city with its focus on internationalism, world-class infrastructure, highly-trained teachers, and holistic education pedagogies. In the EducationWorld India School Rankings 2018-19, the two-year-old GICLM is ranked amongst the Top schools in Mumbai and amongst the Top 30 international day schools in the country. Currently the school has an enrolment of 189 students mentored by 35 teachers.
"In consonance with our mission statement 'Inspired to Dream, Empowered to Do', Garodia Education has been making steady progress to emerge as a trendsetter in adopting globally benchmarked teaching-learning practices. We have come a long way since our humble beginnings five decades ago with our alumni graduating from top universities in India and abroad and making significant contributions to the nation and society. Our newest Garodia International Centre for Learning Mumbai offers the best international curriculums, highly experienced teachers and superb academic facilities on a state-of-the-art campus in Ghatkopar" says Nishant Garodia, Director of Garodia Education, who was conferred Asia's Greatest Leader Award 2017 at the Indo-Singapore Business & Social Forum 2018 for his contribution to Indian education.
Sprawled over a half acre modern campus in Ghatkopar, GICLM provides world class infrastructure to enable delivery of holistic 21st century education. Academic facilities include Wi-Fi enabled classrooms equipped with HD interactive learning systems, contemporary physics, chemistry, biology and computer labs, a well-catalogued library, visual art and design studios, Lego Education Innovation Studio – the first Lego Lab to be set up in an Indian K-12 school, and university guidance and career counselling offices, among other facilities.
Facilities for sports and co-curricular education are equally impressive. They include a half-Olympic size rooftop swimming pool, a play area for primary students, climbing wall, gymnastics and fitness centre. Well-qualified coaches provide professional training in sports such as basketball, football, cricket, handball, athletics, martial arts and volleyball, among others. The co-curricular education menu features a wide palette of activities including yoga, film appreciation, Mandarin language learning, contemporary and Indian classical dance forms, martial arts, Homework Club, among others. A well-designed Performing Arts studio nurtures the artistic talents and creativity of students.
GICLM teaching-learning innovations Since inception, GICLM has been at the forefront of pioneering several pedagogy innovations. Notable among them:
– Lego Laboratory to boost practical and experiential STEM education.
– Introduction of a full-fledged entrepreneurial and leadership training programme for students.
– Scholarship for meritorious secondary school students.
– Integration of personal, social, health and careers education in the core curriculum.
GICLM Teacher Development Programme
Continuous professional development of its 35 teachers is a key focus area of the GICLM top management. Designed to enable teachers to improve teaching-learning process by adopting global best practices, the GICLM Teacher Development Programme encompasses the following:
The Leverage Leadership mentorship programme whereby K-12 education leaders mentor teachers year round.
Training and development sessions organised by the International Baccalaureate (IB) and Cambridge Assessment International Education (CAIE) boards.
Weekly staff development sessions conducted by international teacher trainers.
Leadership and management training is provided to teachers who aspire to take up leadership roles within the institution.
GICLM's international programmes
GICLM provides its students several opportunities to interact with peers across the globe, develop international outlook and prepare for study in top-ranked foreign universities through a host of international collaborations and partnerships. Among them:
PASCH Programme

– A special collaboration agreement with the Munich headquartered GOETHE Institute enables GICLM students to attend special summer camps in Germany and visit reputed German universities.

Broward College, Florida

– GICLM's association with Broward College, Florida paves the way for GICLM graduates to study for the first two years in Mumbai and for another two years in the US, with direct access to the University of Florida and other top institutions.

National University of Singapore

– A partnership agreement with the National University of Singapore enables student interns visiting the GICLM campus to teach and share innovative ideas that enrich students' learning experiences.

Winchester College International Symposium

– An international forum for the world's top K-12 schools to discuss global education issues. The only participant school from India, GICLM hosted the 2019 symposium from March 18-23, 2019 on the theme 'Culture and values'.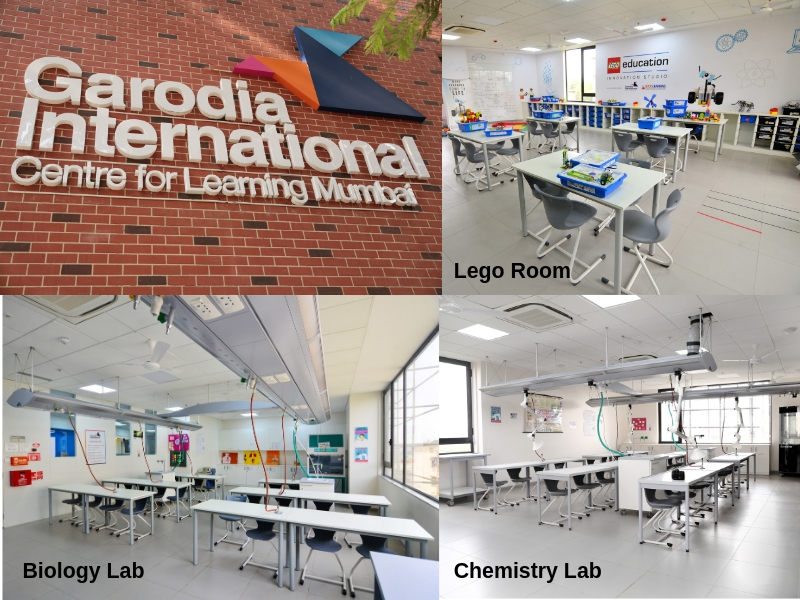 "A host of international exchange programmes, national and international competitions, and extra-curricular clubs enrich students' learning experiences while developing international outlook. The distinguishing feature of GICLM is that we combine respect for Indian values and culture with contemporary pedagogies and internationalism. We are committed to improving the learning experiences of our students by constantly setting new benchmarks in educational excellence" says Garodia.
Posted in
Campus
,
News