Romita Handa, a Grade XI Humanities student from Sat Paul Mittal School has written a poem titled 'Soul Searching' which became part of the anthology – 'Lost Memory' – a poetry anthology on losing and finding yourself.
Out of more than 5000 entries, both in Hindi and English, Romita Handa's poem 'Soul Searching' has been selected amongst the top 55 poems. Her poem 'Soul Searching' dwells into the challenges which life throws, the constant pressure to 'fit in' and the true essence of soul.
Read the poem below: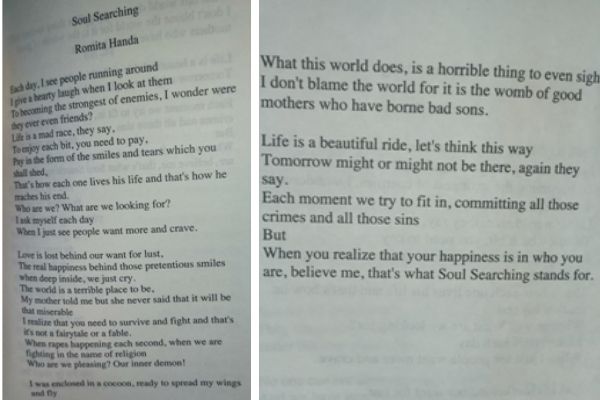 Romita, an assiduous and zealous writer has been a part of various anthologies and magazines so far. Her writing deftly captures the very essence of life and soul. A book nerd, she excels in academics as well as various extra-curricular activities.
Also read: Sat Paul Mittal School student Namya Joshi meets Satya Nadella
Campus
,
News