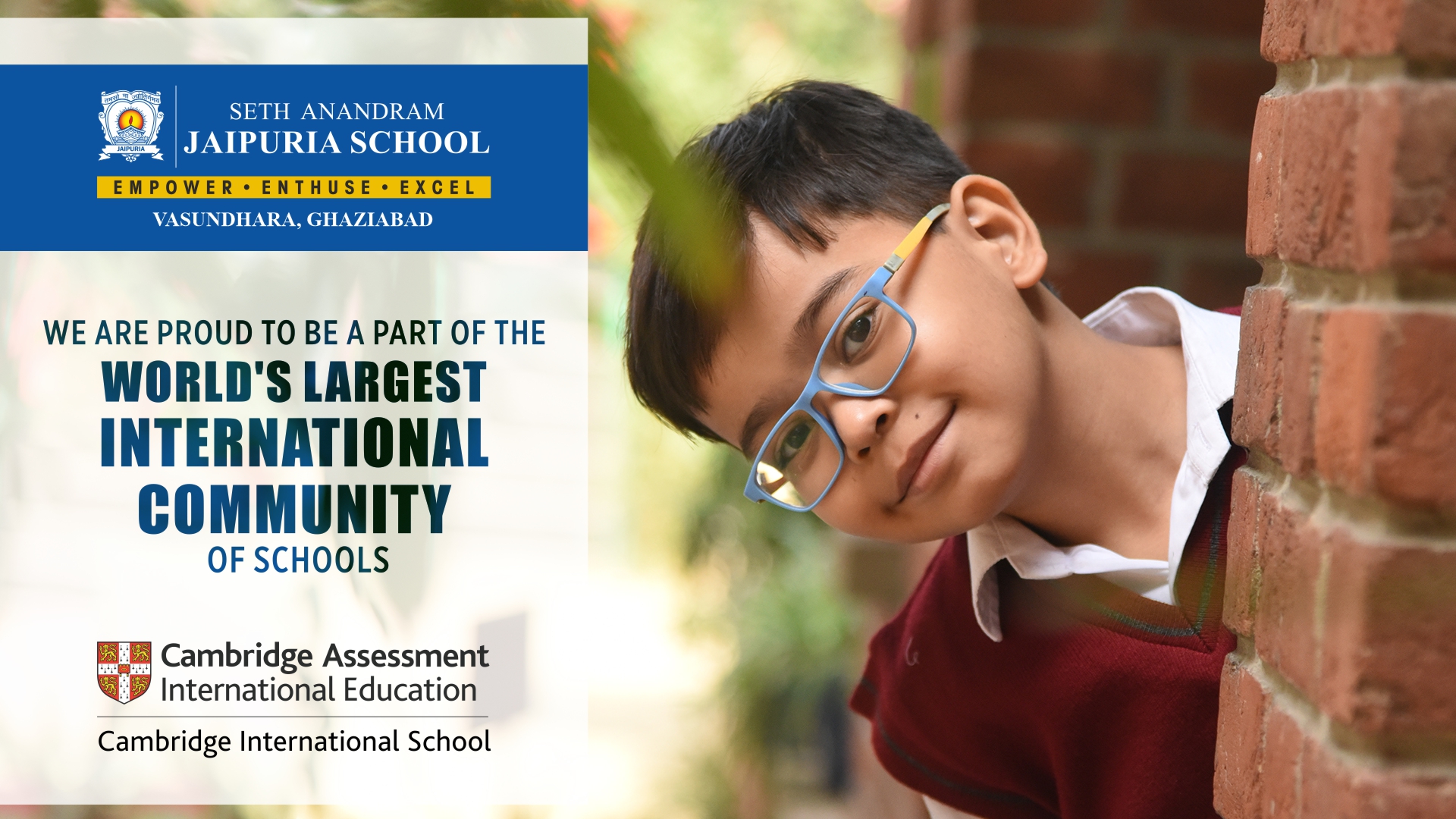 In line with its progressive vision to provide learners with holistic development in a global context, Seth Anandram Jaipuria School, Ghaziabad, has adopted the Cambridge International Curriculum that will run concurrently with the CBSE curriculum in the new academic session 2023-24.
This thoughtfully planned move makes the school an important part of the world's largest international community of schools by Cambridge Assessment International Education (CAIE).
To begin with, the school is introducing the Cambridge Primary learning programme for the students of classes I to V. It's a curriculum that brings together the elements of world-class learning, integrated assessment and high quality support for teachers.
Speaking about the vision behind introducing Cambridge Primary, the school Director Principal, Shalini Nambiar, says, "Our school has always been very progressive when it comes to adopting the best practices, incorporating new-age pedagogy, integrating technology, encouraging the innovative zeal, and maximizing learning outcomes. The inclusion of the Cambridge Curriculum is a natural progression in the school's growth as an institution of eminence."
A Flexible Curriculum
Cambridge Primary is a broad curriculum that provides a choice of 10 subjects and focusses on the harmonious development of learners through academic excellence and by nurturing creativity, expression, well-being and high-order thinking.
As a learning programme, it is easily adaptable to the Indian context and also recognized by nearly all universities in the country. Association of Indian Universities (AIU), the nodal agency that gives equivalence to foreign qualifications, recognizes Cambridge International AS and A Levels, Cambridge IGCSE and Cambridge O level. Above all, the curriculum nurtures important qualities to help learners excel.
Learner Attributes that Cambridge Curriculum nurtures
A curriculum that has a rich 150-year history of educating millions of learners across the world, the Cambridge programme has been refined over the years to develop certain important learner attributes. The curriculum aims to make students:
Confident in working with information and ideas
Responsible for themselves and respectful of others
Reflective in developing their ability to learn
Innovative and equipped for new challenges
Engaged intellectually and socially to make a difference in the world
"Beyond providing international recognition and flexibility in making learning choices, the Cambridge Curriculum offers a global perspective and a pathway to IGCSE, A-Levels, and other curricula. It offers practical assessments that involve written tests, oral tests, and listening tests. We believe that young learners from age 5 to 11 years will benefit immensely from the Cambridge primary programme at our school," says Shalini Nambiar.
Readiness For Cambridge
The school has upgraded the infrastructure to meet all the requirements for implementing the Cambridge Primary. The teachers are undergoing the domain training from Cambridge. The professional development qualification, coupled with resources and support from the Cambridge Community is set to make Seth Anandram Jaipuria School the institution of choice for parents wishing to provide their young wards an education with a global perspective and future-readiness.
Starting with the Cambridge Primary for preparatory classes, the school plans to roll out the Cambridge Secondary curriculum for grades VI to VIII in a phased manner from 2024 onwards.
Admission for Cambridge Primary are currently on at Seth Anandram Jaipuria School. Interested parents can call 8447069990, 0120-4179300, Ext. 303 or visit https://jaipuria.edu.in/ghaziabadschool/cambridge/ or email at [email protected].
Also read: Edu-Unplugged featuring Shishir Jaipuria, Chairman SAJES