With a 13-member National Steering Committee headed by Dr. K. Kasturirangan giving final touches to the NCFSE, EW invited several eminent school leaders to share their great and small expectations writes Summiya Yasmeen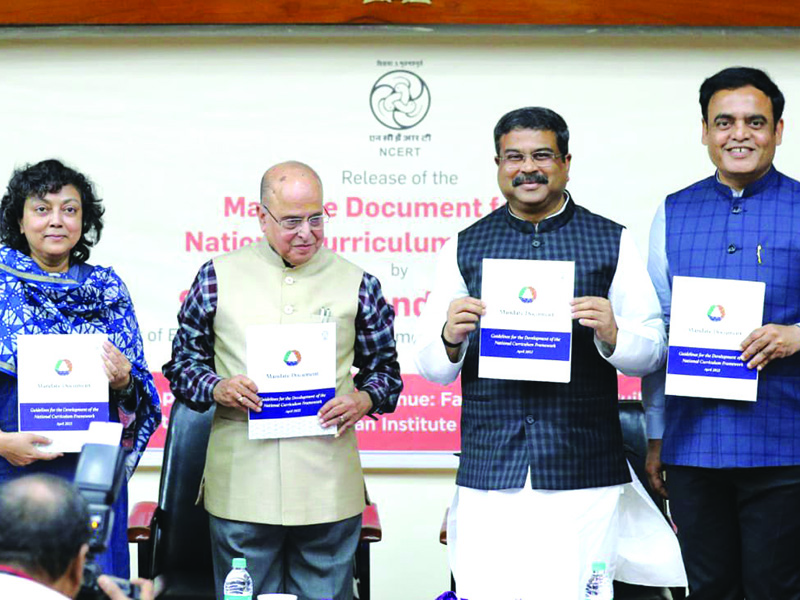 Restricted Content / Members Only
You cant read further without a subscription. If already a subscriber please Login or to subscribe click here
Eighteen years after the National Curriculum Framework (NCF) 2005 was promulgated by the Congress-led UPA government, a new NCF for 260 million school children growing and learning in a fast-changing primary-secondary education system revolutionised by new pedagogies and digital technologies, is in the final stages of completion.
A 13-member National Steering Committee headed by Dr. K. Kasturirangan, former chairman of ISRO and chairperson of the eponymous committee which prepared the 484-page draft report on which the 66-page National Education Policy (NEP) 2020 is based, is giving the final touches to the National Curriculum Framework for School Education (NCFSE), the second installment of the new NCF.
The first installment — the 360-page National Curriculum Framework for Foundational Stage (NCFFS) for children in the three-eight age group — was formally launched on October 20 last year. NCFFS was widely welcomed by early childhood education experts for unambiguously prescribing early childhood care and education (ECCE) through play, conversation, stories, toys, music, art and crafts.
The new NCF is being presented in four installments — testimony to Dr. Kasturirangan's commitment to detail — the National Curriculum Framework for Foundational Stage (NCFFS); National Curriculum Framework for School Education (NCFSE); National Curriculum Framework for Teacher Education (NCFTE) and National Curriculum Framework for Adult Education (NCFAE). The last installment of NCF is expected to be completed by end 2023.
"After completion of the very important NCFFS late last year, NCFSE is being finalised. The main objectives of NCFSE are to shift the focus of primary, secondary and higher secondary education from rote to applied learning and critical thinking, making teaching-learning multi-disciplinary and holistic, and providing direction for smooth transition of K-12 education from the 10+2 to the new 5+3+3+4 schooling system recommended by NEP 2020. NCFSE will be more than a curriculum framework, it will also be a hands-on teacher's manual for curriculum implementation in primary-secondary and higher secondary classrooms," says Dr. Chetan Singai, Chief Consultant, Technical Secretariat of the Union education ministry, which is overseeing the NCF formulation process. An alum of Jawaharlal Nehru University, Delhi, Dr. Singai is also associate professor at the School of Social Sciences of Ramaiah University, Bengaluru.
The four-part NCF will be the outcome of a national consultative process set in motion last year by the Union education ministry and the Delhi-based National Council for Educational Research and Training (NCERT). According to a NCERT spokesperson, the steering committee has received over 1.5 lakh inputs, 600 District level consultation reports, 608 NCF position papers from 27 state governments and reports of 25 national focus groups.
This national consultation effort is important because the new NCF should be accepted by all 28 states and seven Union territories of India. With education in the concurrent list of the Constitution, state governments have the right to design their own school curriculums. However, the national interest demands that K-12 education is standardised countrywide. Therefore, the NCF Mandate Document issued by the education ministry last April states that "NCF enables the federal structure of school education," and that state governments are free to incorporate "local elements" within the broad national curriculum.
Well-informed educationists are unanimous that a common school curriculum framework is in the national interest as it enables standardisation — with minor variations mainly in language and humanities subjects — in K-12 education countrywide. Acceptance of a common national curriculum will eliminate wide disparities in learning outcomes of children — especially school-leavers — from different states. Morover implementation of NCFSE and the new NCF will facilitate mobility of labour countrywide and create a level playing field for children from all parts of the country.
"India is the sole country worldwide which has 34 school examination boards, each prescribing their own syllabus/curriculum. A common curriculum delivered by all national and state board-affiliated schools will ensure all school-leavers countrywide are equipped with equivalent competencies and prepared to do well in common entrance exams which are becoming popular in higher education. State governments which are refusing to accept the new NCFSE and NCF in general for stupid sub-nationalist reasons, are doing their children a great disservice. They are circumscribing their children's higher education and future employment options. Foolish politicians and subservient academics have ruined — and continue to ruin — India's education system," says an "admittedly embittered" principal of a top-ranked co-ed day school in Chennai.
Yet despite the self-evident need for all states to support a common K-12 curriculum, the government of Tamil Nadu is opposed to it. Tamil Nadu has also rejected NEP 2020 in toto because of its opposition to the three languages learning formula. Therefore, it hasn't participated in the NCF consultation process at all and is drafting its own State Education Policy (see https://www.educationworld.in/tamil-nadu-dormant-issue-backlash/).
Meanwhile, hitherto one of the country's most educationally advanced states, Tamil Nadu is experiencing a steep fall in learning outcomes of primary school children. According to a recent Institute for Competitiveness India study, which tested 86,000 class III children studying in 20 languages across India, the state's children fared worst in Tamil language proficiency with only 9 percent exceeding global proficiency standards (cf. 51 percent in Punjab).
The opposition of Tamil Nadu and states ruled by non-BJP parties is rooted in suspicion that the prime purpose of NEP 2020 and the NCF is to 'saffronise' school education i.e, suffuse it with BJP/RSS propaganda in the humanities. Therefore, apprehension is spreading within academia that the new NCF may suffer the implementation failure of its predecessor NCF 2005.
Written by a National Steering Committee chaired by well-known scientist Prof. Yash Pal (1926-2017) and then NCERT director Dr. Krishna Kumar, former professor of education at Delhi University, NCF 2005 suggested four "guiding principles" to all state governments, schools and teachers, viz "connecting knowledge to life outside the school; ensuring that learning is shifted away from rote methods; enriching the curriculum to provide for overall development of children rather than remain textbook centric, and making examinations more flexible and integrated with classroom life".
The Achilles heel of NCF 2005 was that it was insufficiently promoted and marketed. Despite the lucidly written framework document being exhaustively formulated by 21 expert focus groups over a period of 12 months, the Congress-led UPA government that swept General Election 2004, failed to sufficiently promote NCF 2005 or explain its importance for national unity, integration, level playing field etc to state governments or the public.
An NCERT study conducted in 2013 — the last year of the UPA-II government in office — found that only 50 percent of the country's states had followed NCF 2005 resulting in "variation in number of working days, time allotted for teaching subjects like maths and science and evaluation of learning levels".
With several state governments devising their own imbalanced, rough-n-ready school curriculums hastily cobbled by inexpert committees, they have experienced sharp decline in learning outcomes during the past two decades.
For instance, Maharashtra, which was ranked #3 in 2015-16 in the School Education Quality Index of NITI Aayog has slid to #6. Likewise, Uttarakhand and Karnataka have slid from #10 to #14 and #5 to #13.
Consequently, students from these states have become heavily dependent on private tutors to excel in national competitive exams for entry into Central universities, IITs and IIMs.
According to the latest Annual Status of Education Report (ASER) 2022, the learning outcomes of children in rural primaries, which suffered most during the 82-weeks pandemic lockdown of education institutions, have regressed to 2012 levels. ASER 2022 says that 79.5 percent of class III children cannot read class II texts and 74.1 percent of class III children can't solve simple double-digit subtraction sums.
Eighteen years later, the ruling BJP government at the Centre has to advise state governments to accept the new carefully designed NCF because it suggests child-friendly, digitally-enabled pedagogies to end laborious rote learning.
Dr. Chetan Singai (quoted earlier) is optimistic that the comprehensive new NCF will revolutionise K-12 education and bring joyful learning into school classrooms countrywide. "NCF 2005 took a philosophical approach and focused on principles rather than practice. The imminent NCFSE will be a composite hands-on teachers manual. Proposed to be released in two volumes — Principle to Practice and Practice to Principle. — it will be more holistic, practical and easier to implement," says Singai.
However, one wonders if unlike the UPA government of 2004-2013, the BJP government at the Centre will adequately market, promote and explain the new NCF to standardise school education countrywide, which will enable mobility of labour, and provide a strong stimulus for national integration.
With NCFSE scheduled to release, over the "next few months", EducationWorld invited several eminent school leaders to share their expectation of NCFSE and the final new NCF which is scheduled for completion by end year.
The Centre has to advise state governments to accept the new carefully designed NCF because it suggests child-friendly, digitally-enabled pedagogies to end laborious rote learning